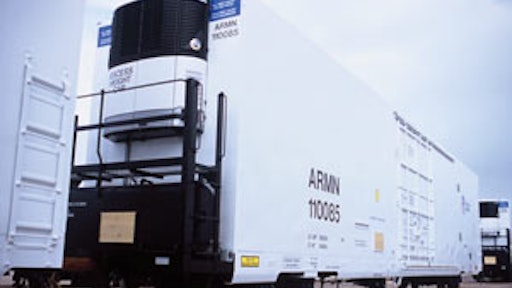 Shipping by rail and intermodal controls costs, takes trucks off highways.
As fuel prices rise and food and beverage companies look for ways to stretch their transportation budgets, rail and intermodal become competitive options. Removing freight trucks from the roads also alleviates congested highways across the nation and eliminates thousands of pounds of emissions from our air.
According to data provided by the Association of American Railroads, trains are nearly four times more fuel efficient than trucks. A train can move a ton of freight an average of 480 miles on a single gallon of fuel.
Furthermore, a single intermodal train can take 280 trucks—the equivalent of 1,100 cars—off the highway. The United States could save one billion gallons of fuel each year just by moving 10 percent of its long-haul freight from truck to rail, , according to a study by the Federal Railroad Administration.
Greater fuel efficiency, high-speed delivery times, state-of-the-art equipment and excellent customer service are all reasons why today's food and beverage companies are turning to rail and intermodal for their transportation needs.
Intermodal Advantage
Intermodal is the shipment of goods from a single origin to a single destination utilizing more than one mode of transportation. It combines the best of trucks and trains by hauling containers or trailers long distance by rail, and using local-based tractors to make the final delivery.
Intermodal shipping volumes accelerated throughout 2010, posting an overall 17.2 percent year-over-year increase during the second quarter.
A major player in the U.S. intermodal shipping market is Norfolk Southern. The company operates an extensive intermodal network in the East, including 58 terminals in 35 markets and on-dock and near dock rail services at all major East Coast ports.
Ed Elkins, director of intermodal marketing, sales and domestic for Norfolk Southern, based in Norfolk, VA, says one key to its success has been increasing the double-stack capacity of its rail network to provide shippers with high-speed, reliable, premium service.
"Virtually our entire network now is double-stack capable, including the new Heartland Corridor," says Elkins. "With the completion of the clearance projects along the Heartland Corridor, we've essentially doubled our capacity on this route, reduced the effective distance travelled between major markets, and efficiently diverted some traffic from other high density corridors."
Infrastructure improvements also help Norfolk Southern provide the highest customer service and speed. The Heartland Corridor, opened in September 2010, is the shortest, fastest route for double-stacked intermodal container trains moving between the Port of Virginia and the Midwest. The new routing improves transit time from Norfolk, VA, to Chicago by 42 hours and is 230 miles shorter than previous routings.
Salt Lake City-based C.R. England, one of the largest providers of refrigerated transportation in the nation, has also made improvements to its intermodal business recently. It's in the midst of growing its refrigerated intermodal fleet from 300 to 600—all of the additional units will be double-stack containers.
Zach England, vice president, intermodal for C.R. England, says overcoming the stigma that product could be left on a side track and significantly delayed can be a challenge. But today's intermodal carriers utilize the latest technology to give their customers transparency regarding the location of their shipments.
"The individual railroads have websites where you can track your shipments," says England. "This technology has helped shippers realize intermodal is just as safe and as high quality a service as over the road."
Although intermodal shipping uses tractors for part of its haul, it is an attractive option for any company seeking to reduce its emissions from truck exhaust.
"Typically we're shipping more than 100 intermodal units using one set of locomotives on our intermodal trains vs. the over-the-road truck model where it's one set of power for each trailer," says Norfolk Southern's Elkins.
While intermodal is a popular option for shipping processed foods, many produce growers opt to ship via rail using railcars instead of trailers or containers.
Rail Reduces Costs
Don Seil, general manager of Davis, CA-based California Northern Railroad (CFNR), says shipping by rail is one of the most economical modes of transportation due to the added capacity of a railcar. One freight railcar can carry the equivalent of up to four trailer or container loads, according to Seil.
"The railroads are competitive and we want the business, so per case or per ton, you can get a better value with rail," says Charles M. Patterson, senior vice president and chief commercial officer of Jacksonville, FL-based RailAmerica, owner and operator of more than 40 short-line and regional railroads, including CFNR. "The food companies have taken notice. From 2007 to 2009 our food segment has grown 12 percent."
Customer service is a top priority for today's railroad companies.
"With RailAmerica being a geographically diverse family of small railroads, we're able to give that personal service with the advantages of a large company," says Patterson. "We provide a service/price combo that customers find very valuable."
Union Pacific, one of North America's largest freight rail companies, has been enhancing customer service by way of infrastructure updates. Newly laid track and upgraded signals allow the trains to move more quickly and smoothly.
"We took the opportunity during the overall slowdown of the business to put capital into the railroad," says John Philp, AVP of food and refrigerated products for Union Pacific, based in Omaha, NE. "From 2005 to 2009, UP invested $14.3 billion in infrastructure, representing the largest five-year spend in the rail industry's 148 year history. In this year alone, even coming off the recession, we've invested $2.6 billion in infrastructure."
Many produce growers along the West Coast ship their product east via rail because it's the most economical way to cover the most amount of ground. Crops such as potatoes, carrots, apples, grapes and cherries are all sent east on railcars.
"The typical breakdown is when you're moving something 500 miles or greater, the railcar is more efficient than a truck because of the additional capacity," says R.W. "Bob" Gill, marketing manager for CFNR. "Most of our products have long east destinations, meaning their final delivery is east of the Mississippi River. The greatest portion goes to the Southeast, the Northeast and even Canada, making rail an attractive mode."
For customers seeking the fastest way to move their product cross-country, new high-speed lines are making rail not only cost-competitive, but time-competitive with trucking.
Eastward Expressways
Part of Union Pacific's multi-billion dollar investment went toward the Produce Rail Express, a train of 55 refrigerated railcars that start in California or Washington and arrives in New York in five days.
The process starts in Washington where 19 railcars are loaded at once to achieve maximum speed. From there, "the train never stops to pick anything up as it makes its way east," says UP's Philp. "Those 55 cars take off the same time every week, so it's very timely and reliable. In Albany, NY, we invested in a specialized warehouse that breaks down the load for trucking to supermarket chains, foodservice suppliers and restaurant suppliers. This service was launched only three years ago and has been successful."
Another high-speed rail option is the Cold Train, operated by Rail Logistics LC, an asset-based 3PL specializing in rail services throughout North America, that runs on the BNSF track. The Cold Train takes 52 hours to get from the Port of Quincy in Quincy, WA, to Chicago.
"Cold train is an outgrowth of a service we instituted five years ago for the Washington DOT when we provided a fleet of reefer railcars to the Washington Produce Shippers Pool," says Mike Lerner, managing member of Rail Logistics, Overland Park, KS.
Through that contract, the company learned there was a huge untapped market for rail coming out of the Pacific Northwest to the Midwest. According to Lerner, there were more than 200,000 truckloads of produce shipping east from Washington a year and about 10,000 of them were going to the Chicagoland area.
Cold Train's first voyage was in May 2010 and during peak produce shipping season, it shipped between 40 and 50 loads a week.
The company also provides door to door as far east as Cincinnati. "It takes about five days from central Washington to Cincinnati," says Lerner. "We compete head to head with trucks, and in fact, we're a little faster."
Cold Container Emerges
Before Rail Logistics began running its Cold Train, it first identified an opportunity in the container market and designed a product to meet their customers' needs.
"At the time there were no refrigerated containers anywhere in the United States," says Lerner. "They were only shipping refrigerated intermodal trailers on flatcars."
Rail Logistics spec'd the container body to Hyundai, while Carrier Transicold provided the CARB compliant refrigeration unit.
"They're lightweight, all aluminum and have a specially designed fuel tank that's 860 pounds lighter than a steel fuel tank," says Lerner. "It can hold up to 26 pallet positions and runs as low as -10 F."