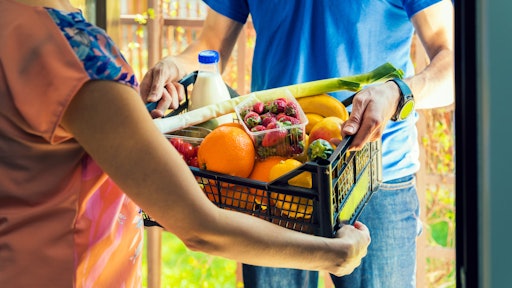 Getty Images
Nine out of America's 10 largest grocers don't publicly report their total food waste, according to analysis by the Center for Biological Diversity and the 'Ugly' Fruit and Veg Campaign.
The Center's report, Checked Out, includes a report card giving a majority of the 10 companies a D or an F for failing to take meaningful action or give clear public commitments to address their contribution to the food waste crisis. Nearly 40% of food that's produced in the United States goes to waste, and businesses that serve or sell food are responsible for 40% of food waste in the country, with retailers accounting for more waste than restaurants or foodservice providers.
"It's appalling that America's biggest supermarkets are doing so little to reduce their enormous contribution to the food waste crisis," says Jennifer Molidor, senior food campaigner at the Center. "Food waste is a growing problem that squanders water and farmland, hurting wildlife and putting food security at risk. We can stop this massive waste, but only if supermarkets are part of the solution."
This report analyzed key food waste reduction commitments, policies and actions at 10 companies — Ahold Delhaize, Albertsons, ALDI, Costco, Kroger, Publix, Target, Trader Joe's, Walmart and Whole Foods Market — that operate a combined total of more than 13,000 grocery stores across the country. The companies were graded on their efforts to address the problem, from tracking and publicly reporting data to initiatives such as selling "ugly" produce.
Key findings include:
Nine out of 10 companies fail to publicly report their total volume of food waste.

Ahold Delhaize,

which owns Food Lion and Stop & Shop, was the only company that publicly reported this data.
The four companies that earned a C grade or higher were the only ones with specific food waste reduction commitments.

Kroger

leads the way with a commitment of zero food waste by 2025.

Four of the 10 companies have no imperfect-produce initiatives, which can prevent the waste of imperfect fruits and vegetables.

Walmart was the only company with a variety of clear in-store efforts to reduce food waste, such as improving store fixtures, standardizing date labels and educating associates and shoppers.

All of the companies have food donation programs, with the majority operating company-wide. ALDI was the only company that did not report a food recycling program (e.g. composting, animal feed or other industrial uses).
"Customers have taken notice of the massive problem of wasted food and want businesses to take responsibility and action," says Jordan Figueiredo, creator of the 'Ugly' Fruit and Veg Campaign. "That's why we're calling on American supermarkets to do their part and commit to eliminating food waste by 2025. Eliminating food waste in the grocery sector could have a ripple effect across society that could help address hunger, save money and protect the environment."