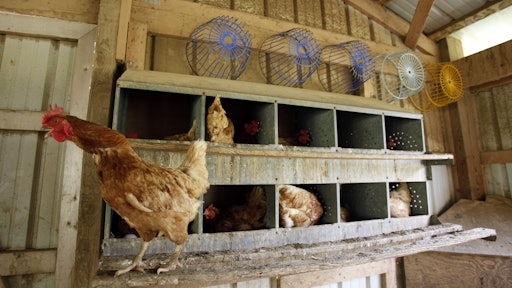 McDonald's transition to fully cage-free eggs, which has set off a stampede in the food industry, will be lengthy and it involves complex logistics, according to a feature article in Fortune. Constructing a cage-free henhouse costs two to three times as much as a caged version. Experience to date indicates there are other health issues related to cage-free chickens. Free birds require more food and the air in cage-free units have higher levels of toxic components and are worse for the humans who work there. Henhouses have an average lifespan of 30 years, and one henhouse operator estimates he is going to have to remodel 26 of his facilities and rebuild another five to provide the fast-food chain with the cage-free supply it needs.
Because of the complexity of the task, the company is creating its own egg supply chain.
http://fortune.com/mcdonalds-cage-free/
Editor's Insight: Steve Easterbrook, McDonald's CEO, is a true food industry visionary. His insights about the challenges facing his company apply to the entire food industry, and they underscore the important role the supply chain plays in meeting those challenges. In preparing the world's largest foodservice company for the future, Easterbrook recognizes the need to revamp its supply chain.
The food industry is responding to new consumer demands at a faster pace than ever, thanks to changing lifestyles, higher education and the greater information access. The era of mass-produced and processed food is giving way to more responsible and sustainable practices. The move to cage-free eggs represents one of the biggest changes the food industry has attempted, as this Fortune article details.
The food industry has to invest in supply chain professionalism in order to meet the challenges it faces. The commitment to cage-free eggs is only one of the many challenges, but it demonstrates the depth of impending change. 8-18-16 By Elliot Maras