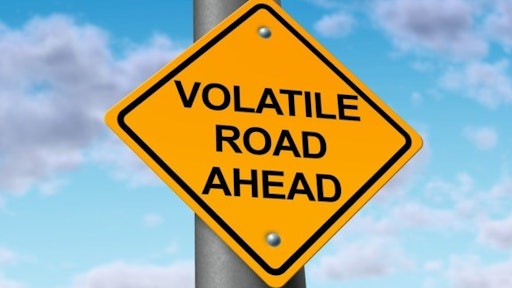 Breakthrough
2020 was unpredictable for the food and beverage industry, as it was for many others. As the economy slowed following Coronavirus disease (COVID-19)-induced shutdowns, shippers adapted to fluctuating consumer demand. At the same time, the fuel market—driving 20-30% of transportation budgets—experienced extreme volatility reducing the cost of moving goods to market.
Heading into 2021, uncertainty remains central to strategic conversations, as shippers attempt to solidify transportation strategies and budgets for the upcoming year. What does a surge in the virus or another series of shutdowns mean? How many waves of pandemic stock up purchasing among consumers will there be? Will the restaurant and hospitality industries continue to struggle, or will they rebound? How might changes in Washington affect policies surrounding energy and infrastructure moving forward? What does the introduction of a vaccine mean for the new normal?
One trend is fairly certain-a fuel market recovery is very likely, and shippers should include accurate and transparent fuel data in their 2021 planning.
For food and beverage companies, volatile fuel prices can be significant, when the profit margins are slim and changing consumer needs leave no promise for tomorrow. Even minor market fluctuations can impact profitability.
An adaptable transportation strategy is crucial in 2021
Annual transportation planning cycles tend to give manufacturers a single, stagnant number for the entire budget year. What's extremely important in a volatile market is that supply chain professionals rely on something beyond that forecasted number. They need a mechanism to track changes throughout the year to allow for ongoing adjustments.
The insights that reliable transportation data provide are invaluable. Yet, so is the ability to add context to those numbers so they can be applied to a specific food and beverage company's unique freight network.
In times of uncertainty and volatility, transportation budgets cannot have a "set it and forget it" mentality. Continuous improvement and operational excellence are what set traditional shippers and best-in-class strategies apart. That could include exploring other modes of transportation, diversifying carrier networks to include regional players, or finding best-fit lanes alternative fuel applications.
Pandemic-induced challenges caused C-suite leadership to pay extra attention to the transportation sector, and specifically energy costs as crude oil bottomed out and prices hit historic lows early in the year. Executives had plenty of questions about what was happening and how to address it, but those questions often came as reactions to dramatic news headlines.
Those headlines, however, don't tell the full story. Shippers need to dig deeper to uncover the real insights and determine what they mean to their organizations. That's where unbiased, market-based information can bring transparency and clarity to the table to cut through the noise.
Gain the ability to respond and deliver under pressure
The pandemic put the importance of a reliable supply chain on full display. Shippers, particularly those providing essential consumer goods, are under pressure to deliver those goods to market on time and within budget. However, cost pressures are also on the rise, including energy prices.
Due to tight margins, food and beverage companies often suffer the consequences of these rising cost pressures more than other shippers. Because energy prices are notoriously volatile, food and beverage shippers should strive to remove as much price distortion from the equation as possible.
Taxes, time and geography can all distort the true cost of fuel across a shipper's network. This distortion can result in overpayment that costs shippers millions over time, which is exacerbated in an unprecedented year like 2020.
Instead of relying on averages to determine fuel surcharges, food and beverage shippers need to find a way to identify the actual cost of transportation fuel along the lanes on which goods are moving. This kind of transparency only comes from a more complete dataset, and it ensures fairness across the board. Shippers reimburse carriers accurately and carriers are made whole.
The future is always uncertain, but you can be ready
All signs may point to recovering energy prices next year, but if 2020 taught us anything, it is to expect the unexpected. Cost transparency is just as critical when fuel prices are on the decline. Shippers could miss out on potential savings when fuel surcharges don't reflect the reality of market fluctuations.
Supply chain and transportation executives need to have conversations with their counterparts in finance and procurement to discuss potential risks heading into 2021. Besides the ongoing pandemic, shippers may also want to consider potential changes in federal policies, the possibility of natural disasters, geopolitical unrest and crude oil production levels. These are all factors that end up impacting transportation budgets.
Uncertainty and volatility are inevitable in 2021. It's impossible to see into the future, but we can prepare for it. Reliable data, an agile supply chain strategy and partners who provide context and guidance throughout the year bring much-needed clarity and stability when the future is foggy.
The public relies on food and beverage shippers to come through in times of crisis, and it takes fuel to deliver those goods. Finding ways to adapt to volatility in the market protects transportation budgets from inaccuracies and keeps store shelves stocked with the products people need.