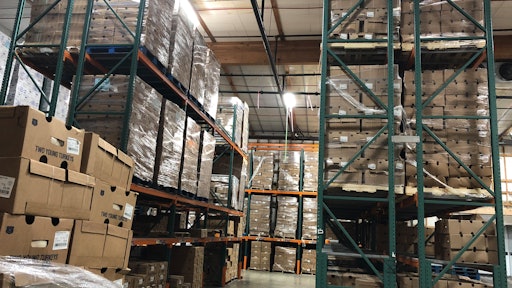 Plymouth, a third generation, privately owned wholesale distributor of chicken, turkey, pork, beef, seafood and other foods for retail, has long relied on its sophisticated freight handling system and fleet to provide the flexibility necessary to handle the needs of small and large clients, with capacity to easily manage multiple product lines.
However, it hasn't always been easy to manage the unique shipping requirements of each perishable product line. As the Seattle-based company grew, Plymouth found itself getting bogged down when processing orders and needed a way to streamline its inventory and procedures. Plymouth turned to PathGuide's Latitude Warehouse Management System (WMS) for the solution.
Feeling Hencuffed
Before looking to technology to improve its business, Plymouth used only pen and paper to log daily inventory and to pick orders. The distributor also had no way to locate inventory besides relying on employees' tribal knowledge of the warehouse layout. "Every time an order came in, the picker would have to find the item by memory because there was no system to track item location," says Ty Marchand, IT manager. "The weight of each item or case picked had to then be manually written down. Once each item in the order was picked, the piece of paper with the handwritten weights of each item (which were written down quickly in below freezing temperatures) was then taken to the dispatch department. The information was deciphered and 10-keyed into a terminal that would print the invoice. This frequently happened while the driver was waiting to leave."
Each order's weight numbers had to be triple, and sometimes quadruple checked, for human error, and the amount of labor and time wasted for each step was astronomical.
"After watching the teams do this, and how painful the process was, I thought to myself, 'there's got to be a better way,'" Marchand recalls.
To Get to the Other Side
The first step was to find a way to easily read the weight from each order item to increase traceability and remove a large portion of the 10-key process and human error. Plymouth quickly realized that to do this, it not only needed to implement barcodes and scanners, but it needed the right infrastructure to manage the data and automate and control the processes.
Marchand contacted PathGuide Technologies and set the wheels in motion to understand more about its WMS and the company behind it.
"We knew that a WMS was going to be the best fit. We are a company that supports other local companies, and coupled with Latitude's superb quality, PathGuide was an easy choice," says Marchand. "The company was also very willing to customize the software to meet our unique needs as a food distributor."
Fresh to Frozen
There are unique requirements and restrictions when storing and distributing products with an expiration date. Every product at Plymouth is kept in a refrigerated and strictly temperature-controlled environment, from the moment of delivery until the time it reaches customers.
"The Plymouth cold storage facility has a number of refrigeration and freezer areas ranging from 38 degrees Fahrenheit down to a chilly sub-zero," says Marchand. "Working in these unique cold conditions is never easy, so our goal is to streamline every other aspect of the inventory and the order processes as much as possible."
PathGuide worked with Plymouth to create and customize a program called "Fresh to Frozen." Products that do not sell by Friday need to be frozen and processed as a frozen item before Saturday. PathGuide's program allows Plymouth workers to take a fresh item, scan one of its cases, and the program will automatically convert the fresh item number to the frozen equivalent. It also adds the correct frozen weight and prints the labels needed. The program has saved time and money by reducing confusion and inventory errors.
"What used to be an almost all-day event was narrowed down to a few hours each Friday. It's also dramatically increased our inventory accuracy," Marchand explains.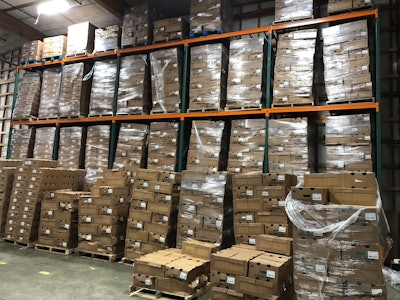 Turkey Takeover
As the holiday turkey season approaches, Plymouth is beginning to prepare for its busiest time of year. During the year it averages about 1,200 to 1,500 cases of turkeys shipped per week. However, that number can spike to almost 35,000 cases a week prior to Thanksgiving. To adjust for the massive increase in turkey orders and inventory, the company dedicates a specific room entirely to turkeys, stacked floor to ceiling. Employee overtime peaks, which means more employees in the warehouse at all times. One process that stays constant is Plymouth's use of Latitude.
"I'm not quite sure how'd we'd get through the season without Latitude," notes Marchand. "The software scales really well, so it doesn't matter if we have one worker scanning product or 30, everything gets scanned. If we didn't get that instant item data from Latitude, it would severely slow down productivity during the most hectic time of year."
Everything is Coming Up Fresh
Today, Plymouth employs over 130 workers and has four locations in Washington, including two cold storage facilities, one cutting facility and one transportation facility. The company has been using Latitude for over 19 years, which allows the company to incorporate various best practices to speed up shipments and increase accuracy.
"Quality has always been Plymouth's top priority," Marchand emphasizes. "Management has been able to differentiate the company from its competitors by adopting advanced technology like Latitude. This ensures our customers receive the highest quality and freshest products available."