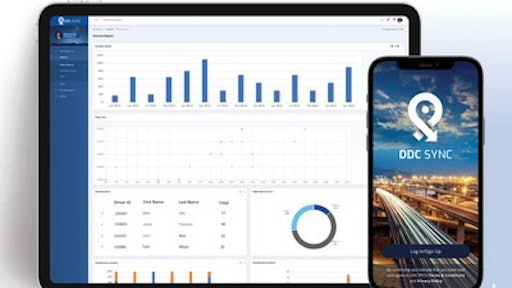 DDC FPO
DDC FPO launched DDC Sync, a new enterprise application consisting of an intuitive mobile application and web portal designed to bring the people, processes and data of freight operations into harmony.
"By empowering drivers to capture bills of lading (BOLs) faster and with greater accuracy, streamlining cross-team communication and enabling system interoperability, DDC Sync enables carriers to access critical data quicker," says Richard Greening, DDC FPO's global technical director. "Our partners can make real-time logistics planning decisions and optimize their workforce."
From Yahoo! Finance:
DDC Sync begins in the cab of the truck with smart image capture technology. From there, the solution expands across the entire operation as an intelligent enterprise technology that contains a native Android app for drivers and a web-based portal for terminal administrators and management.
Initial results show that LTL carriers will experience a nearly 6-hour gain in visibility to their freight data with DDC Sync.
Leveraging smart capture technology and GPS tagging, the product quickly and accurately captures data while simultaneously increasing end-to-end visibility with automated alerts, driver-terminal chat functionality and real-time reporting.
Other features include smart OCR image capture that auto-enhances, crops and submits BOL data for processing; BOL inventory management; driver tracking and GPS tagging; streamlined, documented driver-terminal communication; real-time reporting and automated alerts for increased visibility into shipments, drivers and assets; driver incident log and more.