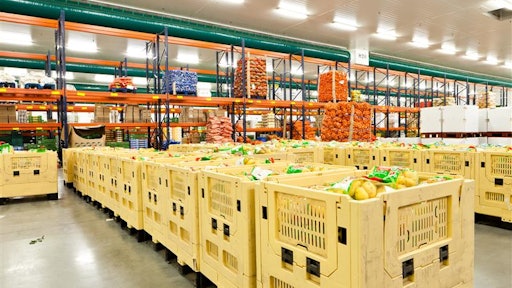 Chlorophylle - stock.adobe.com
Over the last two years, the global supply chain has grown more complicated, leading to an increase in consumer demand for traceability. This is especially relevant in the food industry, where inefficiencies in the supply chain have a direct impact on food waste. Monitoring each stage of the supply chain is essential for the supermarket and restaurant industries. A carefully monitored supply chain increases customer satisfaction, builds brand loyalty, optimizes the supply chain and keeps everyone satisfied.
According to USDA Economic Research Service estimates, 40% of food waste occurs in the early stages of the supply chain. This loss can be a result of labor shortages throughout the supply chain, as well as poor storage options during transportation.
To help address, monitor and prevent shortcomings before they arise, Internet of Things (IoT)-based sensors can be integrated into each stage of the chain – like shipping vehicles, refrigerators and warehouses – to provide accurate and consistent monitoring of temperature data to prevent spoilage. Additionally, with long-range, low-power sensors, food companies can leverage global positioning system (GPS)-free geolocation capabilities that easily monitor assets at a distance. This can be as food travels across the ocean or through tough environments where temperatures may shift to ensure food is delivered on time while lowering waste.
Long distances, variable conditions and thousands of moving parts make tracking the supply chain difficult. But with long-range, low-power technology, it's easy.
Smarter supply chain management solutions
According to a study from Research and Markets, the asset tracking market is expected to grow $27.1 billion by 2023.
When dealing with time-sensitive assets, like fresh produce, it is vital to deliver them to their destination as efficiently and safely as possible. With long-range, low-power technology, IoT solutions are scalable and easy to implement. It also fills the technology gap left by high bandwidth, high power technology like cellular and Wi-Fi/BLE-based networks. These traditional connectivity options are limited by their high bandwidth and an inability to connect to land networks.
Long-range, low-power sensors can be embedded into assets, such as pallets and vehicles, to provide greater visibility into the supply chain and delivery. By leveraging these sensors, companies enable proper supply chain management that ensures quality food arrives safely to the right people at the right time.
Enhanced visibility and monitoring
As goods work their way through the distributors, IoT-enabled solutions automatically send information over a network. This real-time data offers indications that determine the quality and quantity of food that will be arriving at its final destination.
By incorporating geolocation capabilities through the cloud, long-range, low-power sensors can address challenges that businesses face head-on with a simplified asset management platform. With cloud-enabled geolocation solutions, ultra-low power asset management platforms can automatically locate, track and monitor physical assets such as fresh produce and frozen foods.
LoRa-enabled sensors send notifications to a low power, wide area network (LPWAN) gateway application when there is a shift in temperature. The information is then relayed to a network server, where it is routed to application servers or cloud IoT services. The data is then processed and sent to the end-user through a desktop or smartphone application. In the event of a power outage, these long-range, low-power wireless-enabled IoT devices are battery powered and consume minimal energy. This means that as vehicles are en route, if they go off the grid, the smart sensors will still continue to monitor the temperature.
Through the cloud, location data can easily be forwarded to any platform or system for simple integration and ease of use over a diverse set of tracking applications. Sensors leveraging flexible geolocation services enable distributors and the end user to remotely monitor status, quality and location of assets in real-time.
Looking ahead
With long-range, low-power IoT-connected sensors, companies can boost the efficiency of the food supply chain with a cost-effective solution. Those restaurants, grocery stores and distributors leveraging IoT technology are providing their customers with safe, clean and traceable goods and collectively minimize food waste.