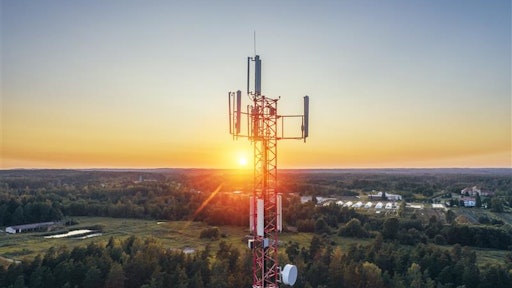 valdisskudre - stock.adobe.com
With the advent of 4G LTE and 5G cellular technologies, legacy cellular networks that support the cargo tracking industry are becoming obsolete. For cold chain or perishable providers who rely on 2G and 3G networks for their perishable tracking programs, these turndowns present potential disruptions in their ability to access real-time location and temperature data about their active shipments. Cargo tracking technologies are adapting quickly to this changing cellular infrastructure, and stakeholders need to transition to the next generation of real-time trackers to avoid disruptions.
For more than a decade, real-time trackers have become essential tools for monitoring food quality and safety in the perishable supply chain. These devices enable live access to in-transit shipment location, temperature and a wide variety of sensor data such as humidity, carbon dioxide (CO2), light exposure and more. Typically integrated with a cloud-enabled technological infrastructure and supporting data analytics software, these trackers provide valuable cold chain insights that help growers, logistics companies and food retailers to monitor food quality and safety.
In recent years, the cold food industry has watched as more cellular carriers began the process of sunsetting their legacy 2G/3G networks. Today, the pace of the 2G/3G turndown is accelerating rapidly throughout the world to support the demand for 4G/5G infrastructures. Many carriers in the United States and abroad have already made this decision, while others are making their own turndown plans. Collectively, this has created an increasingly unpredictable coverage grid for stakeholders who still rely on 2G/3G technology and can't predict where or when coverage will stop.
How do you know you're being affected by the 2G/3G turndown?
It can be difficult to predict where 2G/3G coverage begins and ends because this would require having knowledge of carrier network plans along every mile of your products' typical shipping lanes. But, there are signs you can look for that can indicate when coverage is waning. End-users of 2G/3G real-time tracking devices may experience gaps in their in-transit shipment data streams, which could result in:
Increasing blind spots in visibility to shipment location/temperature data
Intermittent brownouts of real-time access
Gaps in historic trip coverage and data points
Of course, any 2G/3G coverage gaps could potentially impair abilities to monitor and protect perishable food quality (freshness) and safety, which are core objectives to your success. This could also lead to potential process breakdowns from a quality assurance (QA) perspective, such as:
Delayed real-time alerts (emails/text messages) of temperature excursions
Incomplete data for prompt resolution of shipment disputes
Potential risks to brand reputations
However, if you haven't been closely monitoring in-transit shipments or weren't aware of the potential for gaps in your real-time data streams, it's entirely possible these coverage disruptions are taking place without your knowledge. But, make no mistake, if you're still relying on first-generation 2G/3G tracking devices, you will soon be impacted by these legacy cellular network turndowns.
Transitioning to the next generation of real-time tracking devices
The capabilities of legacy 2G networks are not ideally suited for the data requirements of first-generation cargo tracking devices, many of which are still in use today. These devices are equipped with 2G and 3G SIM cards, which only need to transmit small packets of location or temperature data periodically. With the transition to next-generation 4G/5G cellular networks, these networks provided for first time, new technology for Internet of Things (IoT)-centric for real-time cargo tracking devices are designed to leverage emerging low-power, wide area (LPWA) network technologies that have evolved from 4G LTE:
Category M (Cat-M), where "M" stands for mobile
Narrow band IoT (NB-IoT)
These emerging IoT networks are the logical successors to 2G and 3G, allowing real-time trackers to transmit valuable location, temperature and sensor data without requiring the extensive memory, battery power and data transmission capabilities of 5G mobile devices. Like their 2G predecessor, these new networks will help to keep real-time trackers cost-effective while delivering similar performance characteristics.
The next generation of 4G/5G cargo tracking devices is now available to help cold chain stakeholders achieve uninterrupted monitoring capabilities and bridge the gap between legacy 2G/3G and emerging 4G/5G cellular networks. These new devices are engineered with multi-network compatibility that utilizes emerging LPWA networks when they are available, while "falling back" to 2G as needed. These devices provide users with continuous real-time tracking, eliminating coverage gaps for shipments that travel in and out of legacy 2G coverage zones and newer LPWA networks.
In addition, these new real-time tracking devices are available with a variety of options to address an expanding range of in-transit cargo considerations for perishable products, including:
Extended battery life or individual battery packs for long trips
Additional sensing capabilities, such as CO2, oxygen (O2), ethylene and other modified atmospheric options
Dual-mode, Cat-M or NB-IoT with 2G fallback capabilities
Tri-mode, Cat-M and NB-IoT with 2G fallback capabilities
Be proactive to avoid disruptions
The 2G/3G turndown has officially arrived. As the global mobile device industry accelerates its transition to 4G/5G technologies, the cargo tracking industry will progressively lose access to legacy 2G and 3G networks. Because specific turndown timelines and regional impacts can be difficult to predict, cold chain stakeholders should take steps now to transition to next-generation 4G/5G trackers.
If you're an end-user of first-generation 2G/3G real-time tracking devices, it's important to transition to next-generation technologies to avoid gaps in data coverage or potentially placing food quality or safety at risk.