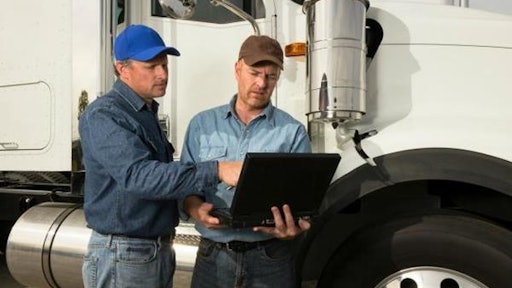 Paragon Software Systems Inc., a provider of vehicle routing and scheduling optimization solutions, announced that it can help transportation planners harness data gathered to comply with the electronic logging device (ELD) mandate to drive greater operational efficiency. Reporting functionality available in Paragon's route planning software can be used to analyze data, including hours-of-service (HoS) information, truck utilization and on-time delivery performance, to identify areas for improvement, which can help transportation operations plan more effectively and counter feared productivity losses arising from compliance with the rule.
"Many transport operations across the U.S. have been reluctant to have electronic logs installed in truck cabs because of the investment required, but also because of the feared drop in capacity and productivity," said William Salter, CEO and president of Paragon Software Systems. "In fact, we are already talking to a number of our customers about how they can use the data captured to refine their transportation plans and make better use of the available driver resources. The reporting functionality in our route planning software is tremendously beneficial to transportation managers trying to find new ways of keeping costs low, while meeting customer service levels and regulatory requirements."
The ELD mandate requires operators to install devices in their trucks by December 16, 2017, to record HoS duty, driving or rest time, for easier, more accurate HoS reporting. The logging devices can also record a wide range of data points, such as date, time, location information, ignition events, engine hours, vehicle miles, speeding, harsh braking and idling. With the reporting functionality available in Paragon's route planning software, planners can use the data collected in many different ways, including:
Using actual hours worked each day by driver to ensure shifts allocated for the remainder of the week are not in jeopardy of exceeding HoS regulations.
Using accurate behavior data to conduct real-time driver debriefings at the end of each shift to help lower fuel costs, as well as keep drivers and freight safe.
Recording historical truck usage to improve utilization of expensive assets.
Analyzing actual time taken for deliveries to identify any regular delays at customer sites that can be reduced.
Paragon's route planning software interfaces with a wide range of vehicle tracking and ELD systems via the Paragon Route Execution module. This allows customers the freedom to choose their preferred electronic log vendor or multiple log vendors if more than one type of device is used across the operation. It manages transportation plans in real time, allowing transportation managers to see where trucks are on the road and how the day's plan is progressing at any given time. By integrating with vehicle tracking systems, Route Execution can alert management to any vehicles that are running late or early so that it can make timely alternative arrangements, such as diverting another nearby vehicle to make a scheduled pickup or contacting the customer to inform them of late running. Paragon's route planning software can also help planners create more precise truck distribution routes, which can help operators more easily comply with the HoS regulations.
Companies in this article
Request More Information
Fill out the form below to request more information about
Paragon's Route Planning Software Helps Transportation Operations Harness Electronic Log Data