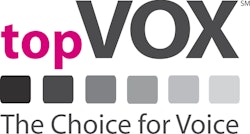 With the VOXter®, top-VOX offers a robust mobile computer device optimized for use with speech-based picking systems (Voice Picking). Special emphasis was placed on ergonomic and simple operation, allowing an easy integration with the natural workflow. Another advantage is the selection of common hard- and software components for the VOXter, making it a cost-effective and reliable partner for warehouse work.
In addition to the VOXter®, we also feature a selection of commonly available PDAs produced by the manufacturers LXE, Intermec and Symbol, which are also perfectly suited for work with our speech-based software topSPEECH-Lydia®-PDA due to their high standards.
The hardware offered by top-VOX can be complemented with a back hand scanner, making barcode scanning available as an additional way of data recording. In order to guarantee an optimal performance in rough warehouse environments, top-VOX offers the especially rugged scanner device VOXter®-S. As an alternative, any other commonly available Bluetooth scanner can be used.
New on the market is the TopVOX BLUEMASTER.  The BlueMaster headset has audio broadband transmission, which makes it an excellent fit for the speaker-independent recognition solution from topVOX.  In addition, the integration with the NoiseMaster from topVOX ensures that background noises are eliminated to avoid interruptions during voice-directed workflow.
A replaceable 750 mAh battery guarantees a running time of about 15-20 hours.  A unique feature is the fact that the Bluetooth module is placed directly in the microphone capsule rather than in the headphones, which has proven to be an additional ergonomic advantage for the operators.
Request More Information
Fill out the form below to request more information about
VOXTER, Voxter-S, Voxter-RFID, BLUEMASTER