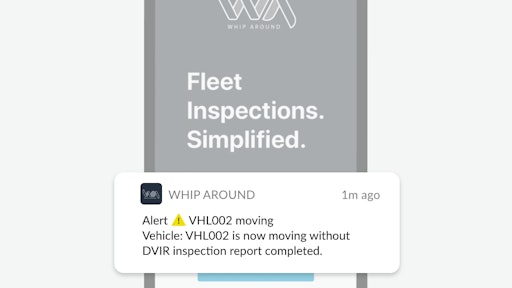 Whip Around
Whip Around announced its availability on the Geotab Marketplace, a go-to source for organizations seeking to better manage their fleets. Whip Around provides fleet operators with electronic driver vehicle inspection reports (eDVIR) and work orders to help support a FMCSA-compliant fleet maintenance solution.
Delivering customizable DVIR templates, defect/fault management, preventative maintenance, schedules and work orders Whip Around helps to improve the performance and safety of medium and heavy-duty commercial vehicles. The Marketplace offering combines telematics data processed from customer vehicles utilizing the Geotab fleet management solution with Whip Around's performance and safety capabilities. By combining this data, users are able to automatically sync odometer readings, engine hours and fault codes in near real-time, helping keep preventative and reactive maintenance workflows up to date. Live inspection and maintenance data from Whip Around is available to fleet managers through their MyGeotab platform. Going one step further, fleet managers will also receive alerts via email and the Whip Around mobile app when a vehicle is on the move without a DVIR completed.  
"This is an industry-leading innovation available to Geotab and Whip Around customers only," says James Colley, Whip Around's Co-Founder and VP, Strategic Partnerships. "By integrating our solution on the Geotab Marketplace, customers are able to streamline their fleet maintenance and DOT compliance processes in a single-platform without disrupting existing workflows." 
With the goal of enabling fleet managers to take control of preventative maintenance and compliance efforts, service schedule triggers such as engine faults, defects from inspections and odometer readings are automatically synced into the Whip Around solution. This allows fleet managers to consolidate service triggers into work orders and efficiently assign them to internal mechanics and/or external vendors. Parts, labor and costs can also be added to the work order for accurate record-keeping and Department of Transportation (DOT) compliance reporting. The information gathered through the Whip Around solution is then looped back into the Geotab platform to help provide fleet managers with improved visibility and fleet maintenance efforts.
"Providing businesses with increased visibility into their fleets' maintenance and compliance efforts has always been a focus for Geotab," said Louis De Jong, Executive Vice President at Geotab. "Solutions such as Whip Around will help equip more than 40,000 Geotab customers with the tools they need to help improve fleet productivity, maintenance and compliance."
Companies in this article