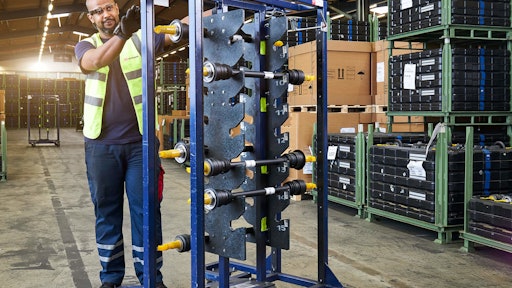 Picavi
Picavi will be presenting the Picavi Cockpit under the motto "Logistics Jungle – let us be your guide." The tool has features for the generation of smart data as well as for managing, maintaining and customizing the screen of the Pick-by-Vision glasses: analytics, mobile device management (MDM) and configurator. Users benefit from enormous time and cost savings, greater flexibility and transparency as well as improved process quality. 
The Picavi Cockpit is a new smart application within the Picavi ecosystem that unleashes the full potential of order picking supported by assisted reality (AR). For example, with the smart data function analytics, sensors on the glasses collect process parameters that can be evaluated using the Picavi Cockpit. An application example is Wi-Fi coverage in the warehouse. The interaction between Picavi Cockpit and data glasses means the signal can be measured at each individual storage location. "Dead" zones or areas with weak signal coverage, which can lead to interruptions in the picking process, quickly become visible. What is more, individual KPIs such as picks per hour or per location can be defined in analytics and monitored in dashboards. Another advantage is the identification of optimization potentials. Are the items stored in accordance to the ABC analysis? Do employees take the best route when walking through the warehouse? Is there a particularly high number of faulty scans at a storage location? The tool provides answers at a glance and thus delivers real added value. Disruptive factors are detected and eliminated, thereby increasing the process quality. 
Over-the-air: convenient wireless updates
Mobile device management in the Picavi Cockpit ensures the functionality of smart data glasses – with minimal effort. A one-scan setup simplifies the addition of new glasses to the fleet. Simply scanning the barcode starts the configuration process. Then the glasses are ready for practical use in just a few steps. The Picavi Cockpit also allows wireless updates. Updates can be installed "over the air" using the new software. Users benefit from lower support costs without sacrificing security standards. Picavi has also integrated the screencast function, which is suitable for training new employees to modern standards. The glasses' real-time display can be projected onto a monitor in no time at all. This makes it easier to clarify work steps. 
Everything in view with customized screens
The configurator completes the Picavi Cockpit, which supports users in creating individual screens for the glasses. The customized screens visualize relevant information, which can be arranged as required. Users can therefore respond flexibly and promptly to process changes or new processes – and with their own resources.