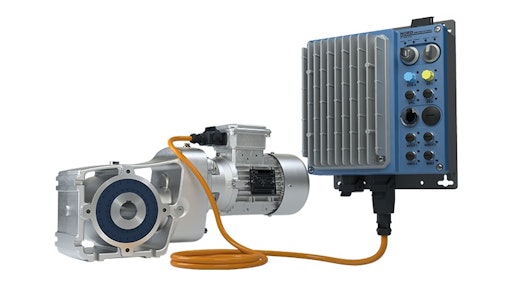 NORD Gear Corp.
NORD Gear Corporation, a world leader in gear reducers, electric motors, and variable frequency drives (VFDs), will showcase a variety of its solutions for the supply chain industry.
NORD's intelligent drive solutions help some of the world's largest consumer goods manufacturers, online retailers and warehouses move products faster with more control and less energy.
Featured products at the NORD booth will include:
LOGIDRIVE. Designed for all types of conveyors, the LOGIDRIVE system features a modular two-stage helical bevel gear unit, IE4 motor and a decentralized VFD. All common field bus and industrial Ethernet interfaces are integrated into these drive units. The use of IE4 synchronous motors minimizes overall lifecycle costs, and efficient operation at partial load and low speeds make this the ideal solution for high-volume manufacturing, material handling and packaging systems. As a complete package, LOGIDRIVE provides flexibility, increased energy efficiencies and reduced variants to improve ROI.
NORDAC Electronics. Intralogistics and conveyor technology require drive solutions that are easy to install and economical to operate. The NORDAC line of decentralized drive systems offers a range of solutions from simple motor starters to versatile variable frequency drives.
The NORDAC BASE is the best choice for simple drive solutions whereas the NORDAC LINK and NORDAC FLEX provide the full functionality of a decentralized VFD and can be individually adapted to any application. For motor starters, there is the choice of the freely configurable NORDAC LINK or the wear-free, flexibly integrated NORDAC START.
NORDAC advantages entail flexible configuration according to customer requirements and applications, a range of power options from up to 4 HP for motor starters and up to 30 HP for the NORDAC FLEX -Fast commissioning due to simple operation, simple and reliable plug-in capability, simplified system maintenance due to integrated maintenance switch and local manual control facility and can be integrated into all common bus systems.
Two-stage Helical Bevel. Featuring two housing styles (open and closed) along with flexible input and output configurations, NORD's two-stage helical bevel gear units deliver application and environmental versatility in a compact, modular design. Available with foot, flange or shaft mounting, the units are designed for customers who need a robust gearbox for light conveying and processing applications, as well as food and beverage industries.