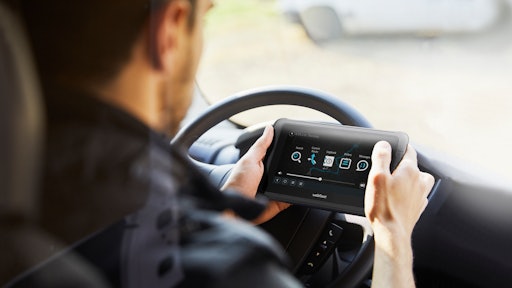 Webfleet
Bridgestone's Webfleet Solutions works Google Services, TomTom, LTE Connectivity and other advanced technologies into its driver terminal PRO 8475. The tablet is meant for fleet managers and drivers for workflow efficiency. Its rugged design and drop resistance allows for both in-vehicle and outdoor use and has a 7-inch screen with low reflection. 
Per Webfleet Solutions: 
Equipped with Google Services including push notifications to enhance seamless communication and access to the Google Play store including standard Google Apps (such as Chrome, Gmail, Google Maps). Wireless connectivity with LTE supports fast download speeds, as well as Wi-Fi®, Bluetooth® and NFC/RFID for wireless communication and professional use.
Best-in-class truck navigation using a complex network of TomTom LIVE traffic data and advanced algorithms to determine the most suitable routes and accurate estimated times of arrival (ETAs). Preinstalled maps are also available for offline usage.
Fleet management functionality in combination with WEBFLEET: Seamless messaging and order management is supported between drivers and the back office. Working time and mileage registration can be effectively managed, while in-vehicle driver coaching and driving behavior feedback is provided by OptiDrive 360.