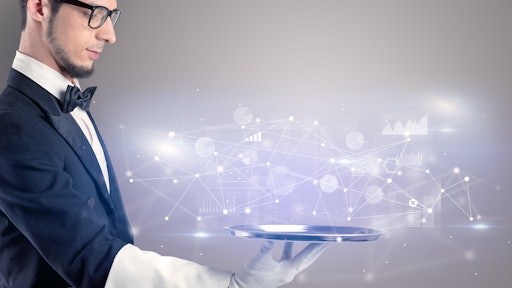 Getty Images
Having the ability to trace food back to its original originals is becoming increasingly important to consumers - and companies are starting to take notice.
Mastercard is collaborating with Envisible, a company that enables supply-chain visibility in food systems to bring more visibility to food that people eat every day.
"The sheer volume of global trade makes it difficult to track the journey and authenticity of food," says Mark Kaplan, partner, Envisible. "We're excited that Mastercard shares our vision and is driving consumer trust by bringing its significant expertise in using technology at scale with commercial-grade processing speeds, data flexibility and privacy, and security standards to an area that has previously been considerably opaque."
The company's Wholechain traceability system will be powered by Mastercard's blockchain-based Provenance Solution and used by Topco Associates, a food cooperative in the U.S., to help its member-owners' supermarkets trace and highlight the origin of seafood. Topco is working with its member grocery chains, starting with Food City, to pilot the use of technology to provide better line of sight into ethical sourcing and environmental compliance of the seafood selection sold at their stores. Salmon, cod and shrimp will be the first to be tracked.
"Given consumers' expectations for reliable information about the food that they eat, we're excited to partner with Food City and Envisible on this trace and provenance solution pilot, and the promise of Envisible's Wholechain solution," says Scott Caro, senior vice president of Fresh, Topco.
Mastercard has built a permissioned blockchain network that is integrated with its global network and provides a secure tamper-proof ledger, high transaction throughput, enhanced security, transaction privacy and support for multiple use cases with one deployment.
Built on its proprietary blockchain technology, the Mastercard Provenance Solution is industry-agnostic and helps brands provide visibility into product journeys and a clear record of traceability designed to contribute to consumer confidence, trust and awareness. The Mastercard Provenance Solution also provides governance capabilities to complex supply chain networks, leveraging Mastercard's proven track record of establishing trust and rules in highly-regulated markets.
"The identity of things is becoming even more important as consumers raise demands for transparency," said Deborah Barta, senior vice president, Innovation and Startup Engagement, Mastercard. "Our provenance solution leverages Mastercard's established network capabilities, globally-scaled technology, and services, such as payments and counterfeit programs. This allows us to deliver trust, financial inclusion and back-end efficiencies to the marketplace."