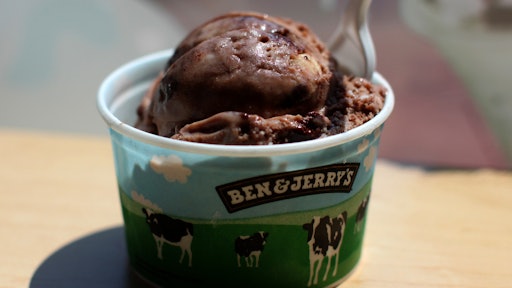 Ben & Jerry's are on a mission to lower its environmental impact by reducing its carbon credits with blockchain technology. 
At a scoop shop in London, the ice cream brand will pay a penny to counterbalance the carbon in the customer's ice cream cone. The cashier will then ask if the customer would like to donate another penny to double the impact, Forbes reports.
For years, the environmentally conscious company has bought carbon credits, tradeable tokens linked to projects that offset greenhouse gases created by their business operations, according to Forbes.The money from the credits are filtered back into projects, such as building new wind farms or planting forests. 
The carbon credit trading that Ben & Jerry's is doing is the pilot for the Poseidon Foundation. 
Poseidon's solution uses blockchain to break carbon credits into micotransactions that can be attached to every scoop of ice cream, Forbes reports. The company is working on an app that will help consumers keep track of the carbon offsets their buying from the ice cream maker.