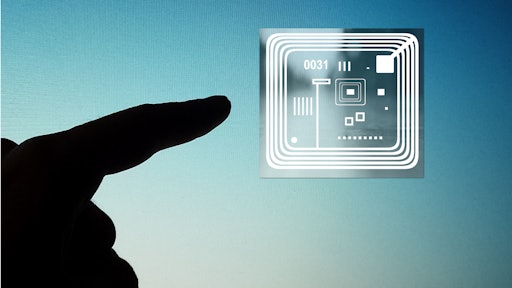 While RFID began as a tracking tool for inventory and assets, the emergence of real-time networks has since enabled RFID data to deliver insights in areas such as product status reports and inefficiencies in the supply chain, according to a feature article in the November/December Food Logistics. RFID enables faster and more comprehensive views into potential inventory problems, allowing companies to take pre-emptive action and reduce the need for costly expedited freight. As a data capture technology, RFID also promises more accurate inventory tracking, faster inventory picking, reduced out-of-stocks, and less shrinkage.
According to the Material Handling Institute's 2015 annual industry report, logistics companies are using RFID today to achieve near 100 percent accuracy in shipping, receiving, orders, and inventory accuracy, 30 percent faster order processing, and 30 percent reduction in labor costs.
While some large players like PepsiCo and Walmart have embraced RFID, the food chain in general has been slow to adopt it, mainly on account of cost. In addition to the deployment cost, many say bar codes, which are pervasive throughout the supply chain, have proven effective in monitoring inventory and asset data.
But there are signs that the tide is turning. Heightened safety concerns are causing many players to reconsider RFID due to the improved accuracy it provides for tracking products and assets. The rising omni-channel also creates a greater need for visibility of inventory throughout the supply chain.
To read more, click here.