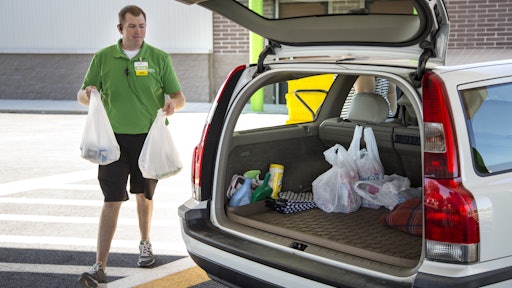 Walmart has announced that its "click-and-collect" Internet grocery shopping model is expanding to eight new cities, with additional markets to be announced in coming weeks, according to Supermarket News.
Walmart said service was launching this month in Atlanta; Charlotte and Fayetteville, N.C.; Salt Lake City and Ogden, Utah; Nashville; Tucson, Ariz.; and Colorado Springs. Additional markets will be added in the coming weeks.
Walmart said tests of online shopping in several cities currently underway — including in its home base of Bentonville, Ark.; San Jose, Calif.; Denver; and Huntsville, Ala. — indicated customers are increasingly demanding the convenience of online shopping, and Walmart's huge store base provides the infrastructure to accommodate them.
"We've tested online grocery options — both pickup and delivery — in a handful of markets across the U.S., and each time we've added a new city, our customers begin using the service faster than they did in the previous one," the company said in a blog post published Tuesday.
http://supermarketnews.com/online-retail/walmart-expands-e-grocery-eight-cities
Editors Insight: The e-commerce revolution is moving faster than many people in the food supply chain realize. According to BI Intelligence Research, online grocery sales will grow 21.1 percent annually through 2018. That's a heck of a lot of growth in a category that is otherwise growing in very low single digits.
Just about all supermarket chains are planning e-commerce initiatives if they haven't introduced them already. Those who have them are expanding them. E-commerce software systems are increasing rapidly.
Supply chain service providers such as 3PLs, transportation companies and business management software vendors need to get up to speed on the omni-channel if they want to be capable of playing in the new food supply chain. There are many new requirements, such as the need to gather "meta data" – product attribute information and images.
The omni-channel marketplace places new demands on supply chains. It requires new software systems that take time to learn. It requires new skill sets for employees at nearly all levels of the supply chain.
The current Food Logistics offers a good overview of the food and beverage omni-channel. 9-20-25 By Elliot Maras