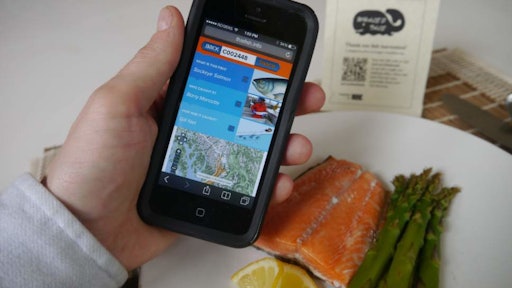 A group of scientists and fishermen have developed an app that will allow consumers to source seafood all the way back to the fishermen who caught it, according to The Salt Lake Tribune in Salt Lake City, Utah. They say the tool they will allow consumers to learn the backstory of a piece of fish while standing in the supermarket aisle with their smartphone.
In an era when many sectors of the New England fishing industry are struggling with depleted resources and choking catch quotas, increasing the cachet of local seafood could be the last, best hope, said Ben Martens, executive director of the Maine Coast Fishermen's Association, one of the groups involved in the "Boat to Plate" project.
"Most fishermen don't want to be involved in this kind of stuff. They want to go out into the water," said Martens, whose group represents 35 mostly small-boat fishermen. "We just don't think that's the way of the future."
Gulf of Maine Research Institute in Portland is developing the tool, which was recently awarded a $175,000 federal government grant, in cooperation with Maine Coast. Final release is about two years away and will likely take the form of a smartphone app, said Jen Levin, the institute's sustainable seafood program manager.
To read more, click HERE