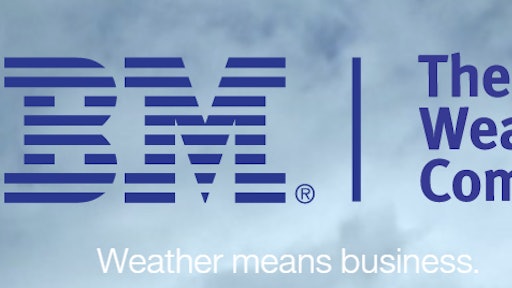 IBM and The Weather Co. through WSI, its global B2B division, announced a global strategic alliance to integrate real-time weather insights into business to improve operational performance and decision-making. As part of the alliance, The Weather Co., including WSI will shift its weather data services platform to the IBM Cloud and integrate its data with IBM analytics and cloud services.
Weather is perhaps the single largest external swing factor in business performance – responsible for an annual economic impact of nearly half a trillion dollars in the U.S. alone, according to Weather Co. While weather prediction is increasingly precise and granular, business systems generally assume every day is the same. As a result, knowledge of impending extreme weather disruptions – or even routine disruptions that drive well understood behaviors and systemic reactions – don't always trigger operational responses. Combining weather data with traditional business data and rich data from an unprecedented number of Internet of Things (IoT) enabled systems and devices will fundamentally transform enterprise decision-making.
The IoT and cloud computing allows for collection of data from more than 100,000 weather sensors, aircraft and drones, millions of smartphones, buildings and even moving vehicles. WSI's forecasting system ingests and processes data from thousands of sources, resulting in approximately 2.2 billion unique forecast points worldwide, and averages more than 10 billion forecasts a day on active weather days.
By migrating its weather data platform to IBM Cloud, WSI will be able to accelerate the growth of one of the largest cloud-based applications in the world. Partnering with IBM will also enable enterprise clients and industry ecosystems to more easily integrate WSI weather data – including rapidly updated forecasts – into their operations and decision-making. Once integrated with enterprise processes, weather data can be combined with data from supply chains, customer buying patterns, or other sources to create more valuable insights.
IBM and WSI will deliver new cloud services to businesses in three key ways:
Watson Analytics for Weather:

IBM

and WSI will enable easy integration of historical and real-time weather data in business operations and decision making with

IBM

analytics platforms such as Watson Analytics. The companies will jointly develop industry solutions for insurance, energy and utilities, retail and logistics among others.
Cloud and Mobile App Developer Tools: Entrepreneurs and software developers will be able to rapidly build mobile and web apps that take advantage of WSI data combined with data from operational systems, connected devices and sensors using advanced analytics through Bluemix,

IBM's

cloud app development platform.
Business and Operational Weather Expertise: Thousands of consultants from across

IBM

Global Business Services will be trained to combine WSI data with other sources to more effectively interpret industry pain points, providing clients new insights that solve business problems.
By combining IBM's cloud computing, industry consulting and analytics expertise with WSI's precision weather data and forecasts, the two companies can now enable entire industries to operationalize understanding of the impact of weather on business outcomes and take action at a local level. For example:
Insurers pay more than $1 billion in claims every year for vehicles damaged by hail. WSI's Weather Alert service, together with

IBM

Analytics, enables insurance providers to send policyholders text messages that alert them to impending hailstorms – and safe locations – so vehicles can be moved before damage occurs. These insights have the potential to save insurers up to $25 per policyholder per year in hail-prone areas, or millions of dollars annually.
Each winter, retailers in snowy areas see patterns in which storm forecasts drive spikes in sales of groceries, shovels, sand, salt and cold-weather gear. Yet those same weather events typically hamper retail sales as consumers stay inside. But differences can be profound – during the January 2014 polar vortex, areas with greater than 10°F drops in temperature saw sales fall 15.5 percent while areas with a less than 10°F drop saw sales fall only 2.9 percent. The ability to better understand and predict the impact of such weather events allows retailers to adjust staffing and supply chain strategies as needed – regionally and nationwide.
Utility companies feel the impact of an increase in temperature and relative humidity – even just a few degrees – dramatically in air conditioning use and power consumption. The difference between 90 and 95 degrees in Texas, for example, can equate to $24 million more in electricity spending per day. With

IBM

and WSI, utilities will be able to more accurately predict power consumption so they can avoid overproducing power, reduce service interruptions and better serve customers.
"This deal combines the capabilities of the world's largest and most advanced commercial weather company with the leader in big data and analytics. Together, we'll help businesses and governments transform their decisions and operations around weather fluctuation at a scale that hasn't been possible until now," said David Kenny, chairman and CEO of The Weather Co. "This is a watershed moment for businesses that have long been impacted by weather but haven't had the rich data or enhanced decision-making ability to drive positive business outcomes. The combination of our new high-resolution forecasting capabilities with IBM analytics opens up a world of possibilities for the enterprise."
The partnership builds upon IBM's investment of $3 billion over the next four years in an Internet of Things (IoT) unit to develop a portfolio of cloud services, software and related intellectual property.
"There's an opportunity to inform all business operations and decision-making with real-time actionable insight delivered securely via the cloud and extracted from this data we're collecting through sensors all over the planet," said Bob Picciano, senior vice president, IBM Analytics. "The Weather Co. and IBM partnership can be a catalyst to making critical business systems even smarter."
For more information on the new WSI and IBM partnership, visit www.ibm.com/IBMandWeather and www.weathermeansbusiness.com.
Editors Insight: The ability to better understand and predict the impact of weather events allows retailers to adjust staffing and supply chain strategies as needed – regionally and nationwide. Weather has a major impact on the f&b supply chain. When deliveries have to be rescheduled due to weather, changes have to be made throughout the supply chain.
Logistics services that can track weather conditions in real time can save their f&b customers a lot of money by knowing when changes are needed for scheduled deliveries.
During the recent ProMat show in Chicago, John Rosenberger, manager of iWarehouse Gateway and global telematics at The Raymond Corp., noted during a seminar on the Internet of Things (IoT) that sensors are providing many types of data that will benefit the supply chain. Real-time weather monitoring is one such example. By Elliot Maras, 04-01-15
Companies in this article