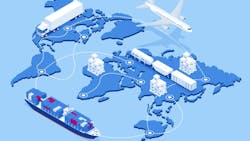 ©Golden Sikorka - Stock.Adobe
The global cold food and beverage industry is transforming. Automation, robotics, wearables, micro-fulfillment, and sustainability have become key roles in the transformation of the cold food chain. But, what does the future look like, and how has the COVID-19 pandemic forever transformed the sector?
By downloading The Future of Cold Food Chains Report, you'll have access to interviews with several industry experts who discuss everything from dark stores and foodservice to technologies, solutions, packaging and the state of freight and ports.
DOWNLOAD THIS FREE WHITE PAPER.
Discover what grocery retailers are doing to answer the call for increased direct-to-consumer (DTC) sales, what technologies are available to help the industry stay on pace, and what's in store for the future of food logistics.
One thing can be certain, technology including automation, robotics and e-commerce are playing a vital role. But, what will the "new normal" look like for food logistics and the cold food chain? Download this FREE white paper to find out.