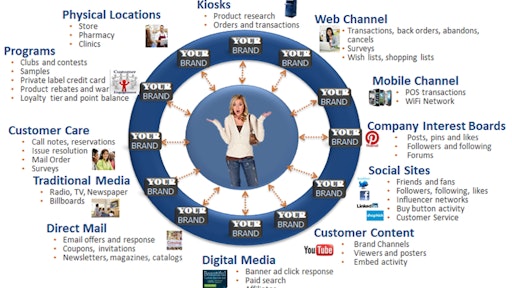 If you ask a group of veteran food and beverage (f&b) supply chain executives what are the biggest challenges they are facing, managing expanding amounts of data would certainly rank near the top of the list. "Big Data" is a topic of concern as the f&b industry, like many others, becomes inundated with data. For many companies, the emergence of the omni-channel is pumping new data streams into the mix which is already bursting at the seams.
At last week's Teradata 2015 Partners Conference & Expo in Anaheim, Calif., coping with these challenges was the focus of many of the sessions. Exploding data streams are impacting manufacturing, distribution, product development, marketing and financial management. One after another, conference speakers emphasized the importance of integrating databases to enable different departments to make use of data and prevent duplication of tasks.
One of the best-attended sessions was the "Connected Consumer" presented by a Procter & Gamble (P&G) marketing executive. Consumer product companies like P&G understand the importance of making sure digital engagement initiatives do not confuse the consumer. This is not an easy task for a company with a huge product line serving a global marketplace using social media, banner website ads, email, loyalty rewards and more.
P&G recently introduced a global platform designed to better support its many data sources and ensure consistent messaging across various digital platforms. The company's marketing division oversees a huge amount of customer data.
At the end of the presentation, I approached the podium and asked the speaker how the company integrates its customer data with its supply chain. You can imagine how surprised I was when he told me the company DOESN'T integrate its customer data with its supply chain. Dumbfounded, I responded with several more questions and the answers were perfectly clear. P&G's customer and supply chain functions are two distinct segments that at the present time do not mix.
Even the company's e-commerce initiative – an Internet-based sales channel – does not cross paths with the customer engagement initiative. Marketing is SEPARATE from sales.
To my mind, this revelation contrasted sharply with one of the main themes of the conference – the importance of integrating data to allow for its full optimization.
I wondered: as a consumer products company gains insights about its customers' preferences, doesn't it have to ensure the product mix will meet those preferences and in a timely manner? Can the science of inventory assortment – which relies on the supply chain – be divorced from the customer experience?
What good are shopper-level insights if the company doesn't tie those insights to a complete view of its inventory throughout its supply chain?
Obvious questions, many will agree. But think about it. Big Data is expanding rapidly and companies are struggling to manage it as best they can. Data streams are growing faster than companies' abilities to manage them. For CPG companies, data analytics is a very new field.
P&G's approach to Big Data demonstrates the full scope of the challenge it presents the consumer products industry. The magnitude of the challenge is such that a leading CPG company must first compartmentalize its efforts in order to make use of the data. Even when the ultimate goal is to fully optimize all of that data.