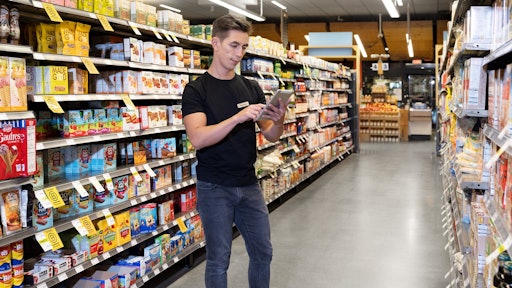 *This article is sponsored by TELUS Agriculture & Consumer Goods*
Product recalls make the news just about every week. In 2022, nearly 1.5 billion "units of food, drugs, medical devices, automobiles and consumer products were recalled in the U.S.," making it a record-breaking year. It's not so much a question of if anymore but rather of when a company will face this issue, with the risk and probability rising as supply chains become more complex and regulatory scrutiny increases. Of critical importance – to protect both the brand and consumers – is to be prepared to manage a recall efficiently. Technology and data can make it easier to monitor products and improve food safety and compliance, while also enhancing business resilience and sustainability.
Preparation involves using reliable and scalable food traceability solutions to maintain full visibility in simple as well as intricate supply chains. The right tools, purpose-built for the food and beverage value chain, can minimize the impacts of recalls, help you realize significant savings on execution costs, foster greater consumer loyalty and limit the stress on customer relationships.
Why recalls occur and why they are so costly
The common causes of contamination include noncompliance with quality standards, incorrect labeling, lack of information on raw material sourcing, packaging faults, biotoxins and foreign matter. And recently, the leading cause of food recalls under the FDA's jurisdiction has been undeclared allergens at 43.5 percent.
Various situations can trigger a recall including notification from a supplier of contamination of an ingredient lot or batch; results from regulatory or your own sampling and inspections; complaints from distributors, retailers, or consumers, and real or threatened product tampering.
The fallout is substantial. It's been estimated that product recalls can result in at least $10 million in direct costs alone for a company, according to a study conducted about a decade ago by the Food Marketing Institute and the Grocery Manufacturers Association; now the Consumer Brands Association. In the current economic context, the costs may be even greater. There are numerous logistical challenges and resulting expenses:
Notifications to regulatory bodies, supply chain stakeholders, and consumers.

The reverse logistics of tracing, returning, storing or destroying the defective products and the associated required labor.

Third-party expenses such as removing the defective product from the shelf and their concomitant loss of sales.

Laboratory and investigation costs.

Legal, public relations and other professional advice.

Cleaning of contaminated premises and potential redesign along with the closure of the plant or production line this involves.

Additional staffing expenditures for additional activities, like establishing consumer help lines.

Indirect costs are also significant and often include lost sales to the company, potential litigation, lowered market value and brand reputation.
In a Harris Interactive poll, 55 percent of consumers indicated that they would switch brands temporarily following a recall, 15 percent would never purchase the recalled product again, and 21 percent would avoid purchasing any brand made by the manufacturer of the recalled product.
Minimize recall costs, time and effort with automated, purpose-built solutions
As an operator, distributor, manufacturer or producer, it's near impossible to ensure you never experience product contamination. You can, however, lessen the potential repercussions by doing mitigation work ahead of time to avoid the three leading causes of poor recall management:
Lack of supply chain visibility

Inefficient track and trace systems

Inconsistently shared information across the supply chain network
To future-proof your supply chain, embrace automation and solutions specific to food supply chains. Select supply chain management tools that are automated and streamlined with a straightforward process that can be quickly triggered, since rapid response is key and automation alone can shorten the recall process from days to seconds.
Be certain that your supply chain management system can provide you with the information you need to properly manage product recalls and avoid the challenges that you'll face if you don't have complete visibility and traceability.
How to successfully prepare for product recalls
The following criteria can be used as a guide to review your supply chain management system and determine whether you have access to the information needed for efficient product traceability and successful product recall management.
Traceability
Visibility of products through the supply chain involves different types of traceability:
Forward and backward traceability.

Internal traceability such as product design and raw materials origins to find the root causes of the defect.

External traceability (public data for the partners in the supply chain to ensure end-to-end traceability, location of items to recall, and returns management).
Maintaining quality records is essential to achieving this level of traceability, as is an appropriate system or automation technology for doing it. You need to be able to trace products to a lot or batch and to a specific ingredient or additive used, requiring batch codes. Records are necessary for ingredients, process control points and shipping, including shipper, customer and supplier records and contact details, for both sales and receiving.
Visibility
Along with streamlined traceability capabilities, you need to be equipped with tools for enhanced visibility into and throughout your supply chain to help minimize the likelihood of a recall early on.
They should allow you to:
Capture data across all supply chain checkpoints in real time.

Share it on a common platform that's visible to all stakeholders in the supply chain.

Detect undeclared allergens, correct mislabeled products and ensure formulation/ingredient control at the outset with automation technologies.

Identify issues at the farm or processor, as well as problems related to storage at the warehouse or shipping, such as truck temperature regulation.
This data can be automatically and securely collected from multiple sources and stored to enable quick, easy and accurate tracing of contaminations and subsequent alerts to downstream vendors. In some instances, a recall might be prevented from occurring if the issue is caught early enough in the chain.
Food traceability solutions for accurate, real-time supply chain visibility and traceability
Direct Store Delivery/Proof of Delivery
A track and trace solution like the TELUS Direct Store Delivery (DSD/POD), for example, provides you with the capabilities you need including:
Real-time visibility into the movement of products to track products from the point of manufacture to the point of sale.

The ability to accurately locate affected products and quickly remove them from the market.

The ability to effectively monitor delivery and sales activities to ensure compliance and security.
Order Management
A good order management system such as the TELUS Order Management System software can provide enhanced scanning capabilities and route reconciliations that make external traceability easier. Users also benefit from:
Enhanced inventory visibility for insight into which products have been recalled and which ones are still in stock to prevent the sale or distribution of affected products and reduce the risk of harm to consumers.

Efficient communication with customers, suppliers, and other stakeholders during a product recall.

Automated process of sending notifications, updates, and real-time information to affected parties.

Extensive product detail from GS1 data including allergens, ingredients, nutrients and images with TELUS DATUM that centralizes all your organization's product attributes for a single version of the truth.
Warehouse Management
The TELUS Warehouse Management System (WMS) software is the tool you need to successfully maximize staff productivity, manage inventory effectively, and comply with food safety regulations.
This WMS solution will give you the benefits of:
Lot traceability, including system-generated receiving lots and tracking attributes to the order product lot for food safety compliance requirements like country of origin and harvest locations.

Improved inventory turns and product visibility.

Product Traceability Initiative (PTI) compliance, GS1-128 Global Trade Item Number (GTIN) compliance, as well as voice box codes for productivity as well as efficient traceability.
All of the above food traceability solutions will help streamline your processes so you can efficiently manage a recall and comply with regulations and requirements from food manufacturers, distributors and government agencies like the USDA or FDA.
Ultimately, automated and streamlined supply chain management systems that are purpose-built for the food and beverage industry – including those for direct store delivery, order management and warehouse management – can improve the traceability and visibility of your products to reduce the likelihood of a recall, action time, cost and pain. Among those are direct store delivery systems, order management systems and warehouse management systems.
Product recalls aren't a new phenomenon and as they've increased, TELUS solutions have been instrumental in minimizing the negative impact on our customers' operations and their customers for 40 years.
Find out more by visiting our website or contact us to request a demonstration by a Supply Chain Management solutions expert.