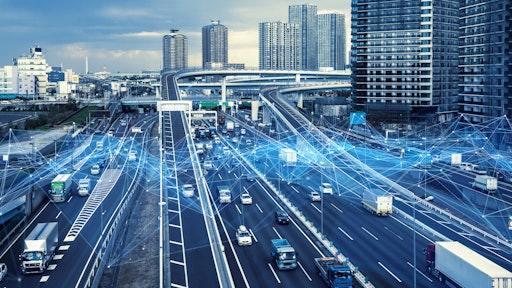 Getty Images
It's a bumpy and unpredictable road from farm to fork. Stubborn challenges in food logistics can undermine cost-efficiency for both food and beverage manufacturers and grocery chains—and ultimately sour the consumer experience.
Getting food from point A to B has long been an industry focus, and significant gains have been made. Innovations such as Internet of Things (IoT) sensors, multi-party collaboration and dynamic route optimization have yielded notable time and cost improvements in food and beverage transportation.
Yet excellence in food logistics is a moving target. Today, fast-rising transportation costs and stricter trucking regulations are eating into some of the gains that the industry has captured. Producers are often forced into the no-win situation of absorbing those expenses—or passing them on to consumers. The rising demand for faster delivery, the complexity of the supply chain for perishable products and variables like natural disasters have compounded these challenges.
Additionally, the market is facing new pressures from consumers hungry for a dizzying variety of product variations. In response, manufacturer SKU volumes are at record highs as they attempt to satisfy appetites for various flavors, packaging options, organic attributes and more.
Grocery chains face transportation pressures of their own in a rejuvenated home delivery market. The share of U.S consumers who purchased groceries online in a recent 12-month time frame leaped from 23 percent to 37 percent, according to a study by Coresight Research.
The upshot: Companies don't simply have more products to move and more channels to service. They have more data to deal with—information on available inventory, carrier cost and capacity, SKU variations, production schedules, demand fluctuations and more factors into the food logistics equation.
As that data grows in volume, velocity, and variety, it becomes impossible for food logistics leaders to manage and analyze it to optimize transport. The status quo of disconnected applications, spreadsheets and human number-crunching can't fulfill the goals of faster, less costly delivery in the face of growing data quantities and complexity.
Using Cognitive Automation as a Data Forklift
Robots, forklifts and other equipment have become indispensable to the pick, pack and ship processes in food logistics, augmenting humans at work. Suppose you could apply similar principles of automation to the data that drives logistics and the back-end supply chain?
That's the promise of artificial intelligence (AI) and machine learning and, in this case, cognitive automation for food logistics. Machines today are capable of analyzing data and orchestrating processes with far higher speed and precision than is possible with conventional applications and human managers. Here's how it works:
AI operates atop what is called a cloud-based cognitive data layer. That consists of near real-time information captured from disparate systems spanning ERPs, CRM, distribution, warehouse management and more through thousands of data crawls a day—much in the same way that Google continuously crawls the web to deliver your search results.
The scope of source applications can be broad, ranging from logistics and routing systems to in-truck sensors and back-end applications for forecasting, production, inventory and sales. That ensures end-to-end visibility and is vital to managing and adapting to volatility that occurs anywhere across the value chain.
Once aggregated and enriched, the data is ready for AI. Machine learning algorithms can conduct real-time analysis, recommend optimal actions, and outline options with their implications (such as 5% higher cost, 10 hours faster delivery and so forth).
The Emergence of Cognitive Automation
Transport capacity. Cognitive automation technology can predict and manage transportation capacity at a highly granular level while virtually eliminating manual work and best-guess decisions. It accounts for the full set of constraints, such as cold chain perishables constraints; availability of trucks, containers and drivers; volume to deliver; and available-to-promise (ATP) delivery schedules.
Transport lead times. Cognitive automation technology monitors and adapts lead times needed due to volumes, wait times by distribution centers, ports, vehicle types or national borders. And because it operates with near real-time data, it can spot disruptions such as highway congestion, equipment failure or a shortage of drivers, offering recommendations to mitigate the impact.
End-to-end supply chain. Cognitive automation technology links logistics to supply chain processes such as manufacturing and inventory. That gives logistics teams early warning of upstream disruptions that could impact downstream delivery. Conversely, it enables supply chain managers to better account for distribution in their processes.
Cognitive Automation Isn't a Future State—It's Here Today
Cognitive automation is here today, and it's being used at enterprise scale to help companies realize multi-million-dollar gains in cost savings, new revenue and profitability.
The most successful digital transformation initiatives have several characteristics in common. Practitioners moved quickly to select a use case, run a pilot project, evaluate results and expand the scope. That speed is possible because AI doesn't require a rip-and-replace of existing systems. It merely uses the data you already have to help your organization make better decisions.
Another hallmark of success is top-down executive sponsorship for digital transformation initiatives. Making AI and cognitive automation a part of the strategic discussion is essential. So is an organizational culture geared to innovate with emerging technologies and rethink metrics by which logistics performance has traditionally been measured.
As digital-native companies like Amazon—built from the ground up with cutting-edge technologies—enter the food market, cognitive automation's breakthrough capabilities are a critical ingredient for traditional players to gain a competitive advantage. Those that embrace cognitive automation in logistics will get food to consumer forks faster and at less expense.