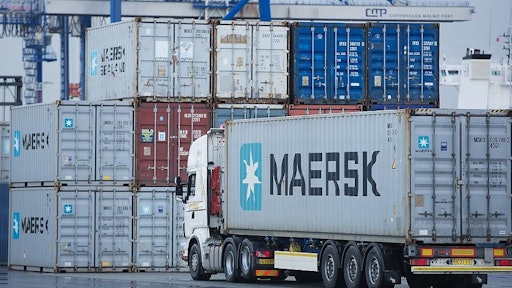 While the shipping news of the day may revolve around ocean carrier alliances and pricing, it fails to report on all of the optimistic harbingers on the ocean horizon.
Maersk Setting a New Course
In 2016, A.P. Moller – Maersk set a new course for the future, determining to focus on container shipping, logistics and ports. Its top priorities for 2017 were integrating its transport and logistics businesses, trimming costs in APM Terminals and Damco, and closing the Hamburg-Süd acquisition.
In December 2016, Maersk Line announced its intention to acquire Hamburg Süd, the German container shipping line, and in March 2017, Maersk Line announced the signing of a sale and purchase agreement with the Oetker Group, owner of Hamburg Süd. At the end of April, the sale and purchase agreement for Maersk Line's acquisition of Hamburg Süd was approved by the boards of Maersk Line and the Oetker Group.
"Today, we have taken a decisive step towards the shared future of Maersk Line and Hamburg Süd. We have confirmed the anticipated synergies and we are convinced that our plan to maximize customer retention is the right path forward. I have no doubt that together we can develop new competitive products to the benefit of our customers and exploit operational synergies. The acquisition is cementing our position as the largest and leading carrier in container shipping," says Søren Skou, CEO of Maersk Line and A.P. Moller – Maersk.
The acquisition is in line with the Maersk Line's growth strategy. Combined, the two companies may be able to realize operational synergies in the region of $350 to $400 million annually over the first couple of years following completion of the transaction. The cost synergies are going to primarily be derived from integrating and optimizing the networks, as well as standardized procurement. In addition, APM Terminals' global portfolio may benefit from increased volumes, specifically the many investments made in the Latin America region. Hamburg Süd is going to maintain its own structure hereunder its separate brands and is expected to deliver high customer retention, adding to Maersk Line's growth agenda.
The combined network is going to include more weekly sailings, faster transit times, more port calls, more direct port-to-port calls and less need for transshipment, to the benefits of both Maersk Line and Hamburg Süd customers. With the acquisition, Maersk Line and Hamburg Süd have a total container capacity of around 3.9 million 20-foot equivalent units (TEUs) and an 18.7 percent global capacity share. The combined fleet consists of 743 container vessels.
Maersk Line expects to close the transaction by the end of 2017. Until then, Hamburg Süd and Maersk Line plan to continue business as usual as separate and independent companies.
Crystal-Clear Transparency in Ocean Freight
Delays are not uncommon in the ocean freight market. According to an iContainers study, around 20 percent of containers fail to load on time and 70 percent of shipments arrive late. Such incidents affect the competitiveness and reputation of companies to whom maritime goods are entrusted.
In an effort to stem those delays, iContainers, a 100 percent online freight forwarder, unveiled the latest digital extension to its online platform. The new enhanced feature, Track & Trace, enables shippers to pinpoint the exact location of their cargo 24/7 in real time, and injects a new level of efficiency and transparency into the ocean freight industry. With Track & Trace, shippers may be able to make better decisions because real-time shipment status updates allow them the flexibility to adjust their logistics chain accordingly.
The service provides real-time container tracking, status updates via push notifications, depicting a more accurate overview of their logistical timeline. Track & Trace combines extracted data from iContainers' data and integrates them with data from other third-party information providers. This data is then consolidated, sorted and displayed on a user-friendly interface and fed to shippers via Track & Trace.
From inland pickup to arrival at destination, shippers can keep up with their shipment's status changes at any time, granting them greater control of their logistics chain from start to end.
Track & Trace works with any shipping carrier. Shippers no longer have to contact corresponding carriers to locate their cargo. That way, they are able to see which carriers can better fulfill their needs as they may have the capacity to review potential delays. Additionally, via their iContainers account, they can access information, such as shipment documentation, contracting rates and booking history, and obtain personalized shipping statistics.
"Our commitment is to give as much transparency as we can to help shippers make the best decisions for their logistics," says Carlos Hernández, iContainers co-founder. "With this enhanced version of Track & Trace, we expect to obtain an improved understanding of the shipping status, which will help us comprehend which carriers provide better services. We're pursuing the dream to have an index of punctuality like the airlines industry."
Predicting the Stormy Weather of Container Supply and Demand, and Customer Behavior
NileDutch, a container and breakbulk shipping company that provides liner services between West African ports and Europe, South Africa, South America, North America and Asia, sought to improve its container flow and vessel fleet utilization. With predictive logistics from ClearMetal Inc., a company that uses machine learning and artificial intelligence (AI) technology to unlock efficiencies for global trade, NileDutch was able to access advanced predictions of customer bookings and container flow movements.
"Managing fleet and container utilization against a backdrop of fluctuating demand in today's highly complex market can be challenging," said Mark Kraaijenbrink, director of information and communications technology for NileDutch. "We are always seeking innovative solutions to gain a competitive edge and ClearMetal's machine learning technology for predictive logistics appears to provide a significant advantage over any other industry methods and tools we've seen."
NileDutch will leverage ClearMetal's Data Intelligence Platform to:
Make better sense of its supply chain data.
Deploy industry-tailored machine learning-based technology to predict logistics based on granular supply chain performance history, data and patterns.
Leverage deep simulation outputs to predict container supply and demand, and customer behaviors on the part of freight forwarders and shippers, earlier and with far greater accuracy than ever before.
"ClearMetal's approach to harvesting data and overlaying advanced technology will quickly move us to the forefront in applying predictive logistics and AI to our commercial and operational activities," continued Kraaijenbrink. "This results in better service for customers and greater opportunities for us to grow."
According to Adam Compain, CEO of ClearMetal, "We're excited to partner with NileDutch to deliver differentiated technology that further accelerates the company's growth and profitability, while becoming a more effective partner to its customers. NileDutch is a very forward-looking company that shares our belief that the future of the supply chain will be about data intelligence over scale."