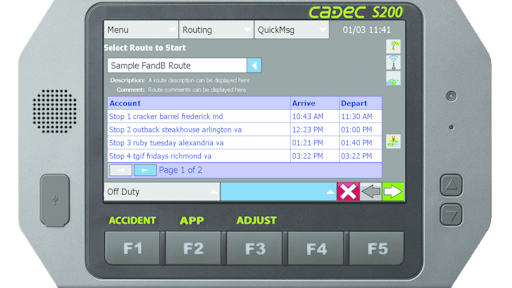 Today's fleet managers are confronted with multiple challenges, from ongoing driver shortages to complex and sometimes restrictive state and federal regulations, and that's just for starters. Add to that the unique concerns of food shippers, and the picture becomes even more complicated.
We checked in with equipment manufacturers, 3PLs, and software and technology providers to get their perspective on the marketplace, and most importantly, find out how they're helping fleet managers stay competitive and compliant.
Industry-wide challenges
There's a consensus on the top challenges facing the industry as a whole, with the ongoing driver shortage and rising fuel costs among them.
According to Tom Scollard, vice president of dedicated contract carriage, Penske Logistics: "The top two concerns for fleet managers are controlling costs and sourcing quality labor and drivers. Fuel, the increased cost of equipment due to regulations, and increased employee cost continue to put pressure on cost management," he says.
Meanwhile, "Food shippers have found particular challenges in hiring the right drivers to deliver food products," says Scollard. "These deliveries are typically labor-intensive with narrowly defined delivery windows. Drivers have multi-stop routes and they're also many times in a customer-facing position. They operate in areas exposed to the public, such as congested parking lots and shopping malls, on weekends and holidays and odd hours. Oftentimes these stops don't have docks. The food industry demands fast and frequent deliveries with freshness a big priority and with low levels of inventory."
Scollard's comments are shared by others, including 3PLs and transportation providers.
Derek Leathers, president and COO, Werner Enterprises, emphasizes that, "Drivers are the primary focus; the industry is in need of talented professional drivers more than ever, even for the most desirable positions that offer opportunities for drivers to be home on a weekly basis." In addition, "The limited amount of governmental and third-party funding available for training schools presents challenges that make it more difficult than ever to attract the talent we need in our industry."
Leathers also mentions the cost of maintaining and updating equipment as a top concern. "The addition of new age emission engines and the required maintenance associated with them has significantly increased costs."
And that's not all. "Original equipment manufacturers and engine repair locations are finding it a challenge to train technicians on this new technology, creating less opportunity for repairs, increased downtime and driver frustration," says Leathers.
To get an idea of how critical the driver shortage has become, Brett Witte, president of Witte Bros., points out that, "Key findings from a 2012 American Trucking Associations (ATA) benchmarking survey of 54 fleets with approximately 140,000 trucks and over 155,000 drivers shows the significant challenges of recruitment, and perhaps more importantly, retention. Fifty-six percent of companies surveyed are considering hiring inexperienced drivers, and 90 percent cannot find enough drivers. These dynamics result in a driver pool that looks very different from days past."
Witte adds that, "A truckload turnover rate of 98 percent in the second quarter of 2013 is a strong indicator of the challenges that lie ahead for companies and their fleet managers. It is likely this number will continue to rise as a driver shortage increases." Although this seems like an uphill climb, he says, "Fleet managers can improve their retention rates and minimize their workload by having clear and consistent communication with the drivers in their fleet. Fleet managers should not underestimate the value of showing gratification to their drivers."
In addition, executives on the equipment side of the business offer a distinct view on how new regulations are impacting fleet managers.
"With the final version of the Food Safety Modernization Act (FSMA) eminent, fleet managers will continue to develop a food safety plan specific for their company to implement," suggests David Wallace, director of sales for Utility Trailer Manufacturing Company. "As a manufacturer, it is our goal to support their requirements, which may include the segregation of payloads, temperature monitoring (both air and product), door openings, payload security and more."
He adds that, "Due to recordkeeping requirements of the FSMA this year, it will be increasingly important to recognize that technology offers choices for fleet managers. Utility offers a growing range of options for our 3000R reefer trailer, both in telematics and RFID for recording box or product temperatures. We are continuing to collaborate with our independent dealers alongside our engineering group to develop customized options for Utility customers in order for them to meet the guidelines for these new rules."
Chris Hammond, vice president, dealer and international sales for Great Dane, that in addition to the challenges of driver shortages and increased regulatory requirements, "most fleet managers we work with are being pressured to get more useful life and productivity out of their equipment over its lifespan. That means they're focusing more closely on the long-term cost of ownership, not just the initial purchase price."
For those reasons, Great Dane's exclusive ThermoGuard liner is "probably our hottest product with fleet managers today," says Hammond. "Its patented barrier layer greatly reduces insulation outgassing and moisture intrusion through the trailer's interior walls. This provides a wide range of benefits not found in traditional reefer liners, including cooling unit fuel savings, decreased trailer weight gain, longer productive trailer lifespan and enhanced resale value. Our ThermoGuard liners are also very impact-resistant and provide a smooth interior surface that's easy to keep clean and sanitary."
Jeff Lear, vice president, sale, for technology provider GreenMile, acknowledges the problems faced by fleet managers, especially those involved in distribution. "Distributors have to balance being able to continue to provide high levels of service to their customers while controlling the increased costs associated with that effort, all the while trying to maintain already think margins," he says. "The space is becoming much more regulated, and the costs associated with these new regulations need to be accounted for somewhere within the supply chain. History shows that the customer will undoubtedly take the position that the distributor should be the one absorbing these added expenses, putting even greater pressure on the distributor to find new ways to become more efficient."
In the meantime, Chris Oliver, chief marketing officer at Zonar, told Food Logistics that, "With increasing regulation, driver turnover, tighter delivery windows, and the need for increased fleet efficiency, operational data is paramount for today's fleets. While technology helps track vehicles, loads, drivers, and fleet performance, the amount of corresponding data fleet managers now have at their fingertips has expanded exponentially. As fleets become data oriented, turning all of that data into actionable intelligence to stay ahead of the competition is a major concern for fleet managers in 2014 and beyond."
Food fleets face unique issues
Fleet managers in the food sector face their own set of issues. According to Ray Zujus, business development director, food and beverage, for Telogis, says, "For food shippers, time and quality are critical factors in the operation and success of their business. The perishable nature of many food items demands shorter lead times from order to delivery to maintain quality. This challenges the operator to produce highly efficient delivery routes that avoid wasted miles and wasted time, which keep costs in line."
Furthermore, "Customers are increasingly demanding proof of cold chain integrity to ensure that the perishable products they receive have been cared for correctly during every step of the supply chain," says Zujus.
William Salter, CEO of Paragon, reports that "more Paragon customers are faced with an increased demand from their customers for tighter delivery time windows and often more frequent deliveries. For example, larger deliveries being split into more frequent, but smaller volume drops."
It's no surprise that, "All this costs money," says Salter, "so we are seeing an increase in the number of companies turning to us to help try and manage the impact of these types of changes."
At the same time, he points out that, "Another major challenge for food shippers is the pre- and post-weekend delivery peaks, caused by the need to replenish fresh food at least twice a week, coupled with the weekend peak in demand. Although fuel prices are high, the largest transport cost contributor is still the trucks that make up the fleet. So, shippers need to minimize their core fleet size by spreading their delivery workload evenly across the week."
However, "With big demand peaks before and after the weekend, this is hard to do," concedes Salter. Yet, the company's solutions "help maximize truck utilization in these situations," he continues.
"Firstly, it schedules drivers and vehicles as separate entities, so enabling drivers to be planned within legal weekly work hours, while maximizing slip-seating to use each truck as much as possible. Secondly, it supports scheduling of the whole fleet across a whole week, so that work can be moved around to give the fleet similar workloads each day. This minimizes fleet costs and frees up working capital," he says.
Leo Jolicoeur, vice president of sales and marketing for Drivewyze, Inc. see the impact of regulations compounded in the food sector.
"Handling temperature-sensitive, perishable freight makes dealing with new federal regulations, like the new hours-of-service rules that came into effect last year, even more challenging for food shippers and foodservice providers. Customers, including those in the food logistics business, have told us that their fleets' operating costs have increased, their fleet miles have dropped, and delivery delays have increased following the implementation of the new hours-of-service rules," he says.
Jolicoeur adds that, "While these new regulations impact all fleets, they represent a new reality because they directly reflect society's new priorities for highway safety. Certainly, with the challenges food shippers and foodservice providers face with increasing responsibilities for food safety at their warehouses and throughout the supply chain, any delays and additional costs make dealing with those challenges that much more daunting. That's why it's so important for fleets to have the right equipment and technology to help them meet these new regulations."
This advice is echoed by Tom Flies, COO of Cadec, who says that, "It's critical that fleet managers have the right information at the right time in an easily accessible and digestible format. It's not enough to just be looking at improving MPG; today's fleet managers need an overall picture on optimizing the fleet as a whole. Putting detailed information together on things like driver performance, idling, speeding, pick-up and delivery times can drive important decisions that affect the entire fleet and directly impact both customer service and the bottom line. The industry is realizing that as much as it runs on diesel fuel, it really runs on information."
As for fleet managers in the food sector, Flies notes that, "We're hearing from them that ensuring product temperature during transport is one of their biggest challenges. Keeping perishable products at the precise 'right' temperature throughout the food delivery chain, from warehouse to truck to final destination, is critical. If the temperature in a trailer drops even a few degrees, pallets of food can go bad quickly, easily costing companies thousands of dollars."
He adds that tracking assets in real time is also important to fleet managers who aim to consistently meet customer service requirements and on-time deliveries.
"This involves using sophisticated technology that can measure that the right people are getting the right products at the right time; extending supply chain visibility beyond the delivery truck onto the dock of a customer site," says Flies.
TMW Systems' Andy Hedrick, marketing alliance director, offers that, "In today's environment, customers expect visibility of their delivery schedules and real time updates regarding orders en route. They need to be able to track orders and review updated ETA's so they can position staff at the appropriate times and reduce overhead."
Yet, "With many food delivery operations, gaining access to schedules and updated ETA information requires a loop of phone calls between dispatchers, drivers and customers," says Hedrick. "This manual method of providing updates leads to delays and frustration. Customers do not want to wait for answers and companies spend wasted hours gathering information and providing updates. Accurate route schedules and automated real time ETA's are need in order to streamline communications and provide the level of service customers expect."
Hedrick also sees the need for operational modeling and cost containment tools, especially when fleet managers are making operational changes. In other words, having the ability to answer questions such as: 'What are the fleet requirements and costs of taking on those additional 100 customer locations?' or 'What cost reduction opportunities exist through adjusting our delivery windows?'
Therefore, "Companies need an accurate assessment of before-and-after resource requirements and associated costs in order to make informed operational decisions," says Hedrick. "With DirectRoute fleet routing and DRTrack real time GPS reporting from TMW Systems, companies can accurately plan route schedules and provide real time information to customers. They can model before-and-after scenarios and compile detailed cost analysis to make informed operational decisions. With optimized delivery schedules that take into account accurate driving times and unloading times and the availability of real time GPS updates, food delivery companies are able to gain competitive advantages and provide superior service while streamlining communications."