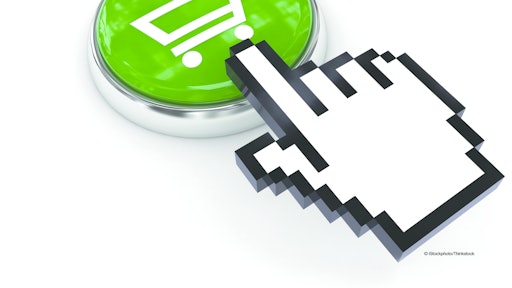 Electronic commerce is on fire. Whether it's B2C or B2B, buyers from around the world are using computers and smartphones to purchase everything from consumer goods and groceries to airplane parts and more.
The early pioneers of e-tailing and recent entrants alike are creating new services to appeal to consumers who demand speedy delivery, easy returns, and an abundance of selection. Behind the scenes, the pressure is on to figure out where to locate distribution and fulfillment centers, how to manage the transportation requirements, and what kind of IT systems and software is needed to support it all.
Amazon.com—the mother of e-com
No e-commerce conversation is complete without Amazon.com. The online retailer launched in 1995 and now dominates global e-commerce. Amazon.com is furiously building up its infrastructure to handle booming Internet sales.
One of its most recent additions is a 950,000 square-foot fulfillment center in San Bernardino, California (just east of the Los Angeles-Long Beach port complex), that opened in October. According to the facility's owners, Hillwood Development Co. and Clarion Partners LLC,
Amazon.com is adding another 515,000 square feet of space at a nearby facility. Together, the facilities will serve the Central Coast region of California all the way down to San Diego and into southern Nevada. Aside from its close proximity to the ports, Amazon.com's facilities benefit from the area's transportation network, including transcontinental rail links and major airfreight hubs.
In the coming months, Amazon.com plans to open a second, huge distribution and fulfillment center in Patterson, California, located southeast of San Francisco. The company is already trying out its Amazon Lockers in San Francisco, which allows consumers to pick up merchandise at a supermarket or other store where the lockers are installed—a highly desirable option for consumers who aren't home to accept deliveries. Amazon Lockers are also in several other major metro areas in the U.S., including New York, Los Angeles, Washington, D.C. and Seattle.
Although Amazon.com's B2C business in the U.S. is worth an impressive $186 billion, the company is also making inroads in the B2B space with AmazonSupply, which it launched a year ago. The site offers about 600,000 SKUs now, but Amazon.com is beefing it up to gain a stronger position in the maintenance, repair, and operations (MRO) segment, whose overall sales are expected to reach $559 billion in sales this year.
AmazonSupply's biggest competitor is W.W. Grainger, which boasts over 1 million parts online and another 400,000+ in its catalogue. In April, Grainger reported its first quarter profits its hit a record high. The company is expanding its product offerings this year and focusing on new global markets, particularly Asia and Latin America.
Approximately 25 percent of Grainger's current sales are attributed to e-commerce, although the company projects that will grow to between 40 and 50 percent by 2015, which is certainly achievable considering that e-commerce is the fastest growing channel for Grainger today. Recently, Grainger's CEO Jim Ryan stated that, "Over the balance of the year, we will invest in e-commerce, our sales force, our distribution center network and our enterprise systems that will provide value to our customers and help us gain additional market share longer term."
The online grocery wars
Conventional grocers have a hard enough time battling slim margins, shorter shelf life, food safety concerns and other challenges, so it's not surprising that early forays into online grocery mostly failed.
A lot has changed over the last decade or so, however. The online grocery segment is gaining ground fast. Research firm IBISWorld predicts the online grocery segment will grow 9.5 percent annually to become a $9.4 billion industry by 2017.
Naturally, Amazon.com is among the field of contenders. The company's AmazonFresh grocery segment is available only in the Seattle area. However, there are persistent rumors that Amazon.com CEO Jeff Bezos may soon rollout the concept to one or two other densely populated urban areas, like Los Angeles.
Meanwhile, others are building their online presence.
One of the leading online grocers in the U.S. is Relay Foods, which started in 2009. The Charlottesville, Virginia-based company operates in the Mid-Atlantic region and partners with local farmers and producers to provide fresh and locally-grown food to consumers. It recently announced a common-stock capital infusion of $8.25 million that the company will use to reach new markets in Washington, D.C., Baltimore, and Williamsburg, Virginia. The funds will also help speed up development of a dedicated mobile platform and pay for Web redesign, additional delivery vehicles, and more food storage.
In an article on VentureBeat.com, Relay Foods' CEO Zach Buckner seemed undeterred by the challenges in online grocery retailing. "Many people consider groceries to be the Bermuda Triangle of e-commerce—a place where investment dollars go but never return," he said. "Relay has some fairly compelling evidence to the contrary, however. Our key metrics are currently right-side-up, so we're cranking up our bet, big time. We aren't out of the woods yet, but I think we're poised to do to traditional groceries what Netflix did to video rental stores."
Online grocer Peapod has been around since 1989. It's owned by Ahold USA and is tied to grocery chains Stop & Shop and Giant Foods. The Illinois-based company serves 24 markets in the states of Illinois, Wisconsin, Indiana, Maryland, Washington, D.C., Virginia, Massachusetts, Connecticut, Rhode Island, New Hampshire, New York, New Jersey and Pennsylvania. Peapod has made 23 million deliveries since its launch.
In April, the company debuted a new Web site, Peapodpromo.com, that offers shopping tips and promotional offers for Peapod.
Another key player is FreshDirect, a New York City-based online grocer that launched?in 2002. In addition to New York City, Fresh-Direct is also in Philadelphia. The company's future expansion plans call for a presence in the 15 largest markets in the U.S. At the same time, it's in the process of moving its headquarters from Long Island City in Queens to the Bronx, where it will build a 200,000 square-foot green-house and also grow vegetables on the roof.
FreshDirect hopes to finish the relocation by the end of 2015.
Unlike Peapod, FreshDirect does not work with established grocery chains. They source directly from a variety of meat, seafood and produce vendors. According to the company's co-founders, Jason Ackerman and David McInerney, this keeps the focus on freshness.
In a recent interview on Yahoo.com, McInerney explained that, "Our model takes out?a lot of the distribution because we're buying it directly from the farm. We can take entire truckloads from the farm into us, often pre-selling it before it even arrives in our facility because we take orders seven days out."
As for what people are willing to pay for online groceries, FreshDirect's Ackerman acknowledged that, "People perceive that online is a luxury so there is a perception that prices are more expensive." However, "We do price surveys for tens of thousands of products across all competitive landscapes, and we're quite competitive."
Of course, offering a good selection enhances the online shopping experience, even if it lacks discount pricing.
"Take a category like chickens—we try to offer a wide range from really traditional chickens that people see in most grocery stores, to more of the specialty higher end," explains McInerney. "Whether it's organic or antibiotic- free or pastured chickens, we try to provide the whole range to people so that we can hit the entire market."
One of the newer entrants is San Francisco- based Good Eggs, which partners with some 150 small, sustainable food producers in the Bay Area. The online grocer also emphasizes a direct to consumer business model. Once an order is placed online, Good Eggs picks and preps the order from the vendors and either delivers to the customer's door or makes the order available at one of its locations in the Bay Area.
The Bay Area is also the site for Google's online grocery pilot, Google Shopping Express, which offers same-day delivery for food and other products.
"We hope this will help users explore the benefits of a local, same-day delivery service, and help us kick the tires on the new service," said the company during launch in late March.
Shoppers who participate in the pilot can shop from retailers such as Target, Walgreens, Staples, American Eagle, and Toys R Us/Babies R Us, as well as local Bay Area shops like San Francisco's Blue Bottle Coffee, the Bay Area's Palo Alto Toy & Sport, and Raley's Nob Hill Foods.
Tom Fallows, a product management director at Google who is heading up Google Shopping Express, said the pilot will expand as "we work out the kinks."
Online grocery is not only taking off in the U.S., there's plenty of activity overseas as well. Just last month, the UK's Tesco launched Tesco Lotus in Bangkok, Thailand. The new service offers over 20,000 grocery, fresh food and non-food products online for home delivery. The launch is part of Tesco's strategy to be an "outstanding international retailer in-store and online."
"Tesco Lotus is committed to innovation to meet the changing needs and lifestyles of today's consumers. We will combine online technology with our retail expertise to provide a great online shopping experience ?for customers. With our solid infrastructure, our true understanding of customer needs for great service and good product quality, and our professionally trained staff, we are confident that we're offering Thailand's best- in-class online grocery shopping service," remarked Tesco Lotus CEO John Christie.
He added that, "In today's hectic world our customers need more help to make their lives easier—an 'extra pair of hands' to do the shopping for them. Tesco Lotus is ready to do just that—have specially trained personal shoppers to pick the best products and deliver them to customers at the time customers choose. Product quality is also on the top of customers' minds. So, we have invested in specially designed delivery vans that can keep fresh, chilled and frozen products in good condition from stores to customers' door steps."
Tesco started its online presence in the UK in 2000, growing to one of the country's busiest retail Web sites. In addition to Bangkok's Tesco Lotus, the company offers online grocery shopping in a number of other Asian countries as well as emerging markets in Eastern Europe and Africa.
India's 120 million Internet users are also looking to buy food and groceries online. The country is a hotspot for online growth, racking up 25 percent growth in e-tailing in 2012, according to the Internet and Mobile Association of India (IAMI).
In its GAIN Report from March 25, the U.S. Department of Agriculture's Foreign Agricultural Service (FAS) states there are currently 14 online food retailers in India.
"Most carry at least some imported food products and one sells imported food products exclusively. Whether retailers will be able to com- pete with the traditional neighborhood grocer remains to be seen, but the greater selection online retailing provides could prove attractive for some consumers," noted the FAS.
Two of the major players in India are Mumbai's Eemli.com, which offers both domestic and imported fruits and vegetables, while Nature's Basket has physical stores in several Indian cities, in addition to its online site.
Where e-com is heading
While e-commerce continues to grow at a blistering rate, logistics providers and others are scrambling to adapt.
In a recent blog, Steve Schwegman, senior vice president with real estate services provider Jones Lang LaSalle, discussed just how big the impact of e-commerce is on supply chains.
"According to the Retail Industry Leaders Association, nine out of 10 retailers still haven't settled on their e-commerce fulfillment strategy," he stated, opening up "plenty of opportunity for leaders within the industry (including consultants, third-party providers, MHE and systems integrators, etc.) to create innovative solutions and value for their clients and customers."
At the same time, consumers are increasingly looking for free or same- day shipping for their orders. "Same-day shipping means it will become more important to locate inventory in closer proximity to massive populations," Schwegman pointed out. "This could mean more e-commerce fulfillment DCs in large, metro areas. This could also mean less distribution by online-only retailers in states such as Virginia, Indiana, Nevada and Tennessee, which will begin enforcing collection of online sales tax over the next year."
One place e-tailers are heading is Kansas City, which has been in the midst of a transportation and warehousing build-out, driven in part by e-commerce.
The new BNSF Intermodal facility, set to open later this year, is a big draw. With 443 acres under development at the complex there's plenty of room to handle the half a million containers that it will attract—and there's space to eventually handle 1.5 million containers annually.
According to the Kansas City Star newspaper, congestion and rising costs in hubs like Chicago, Dallas, Los Angeles and Memphis means "its Kansas City's turn to land national companies seeking to consolidate their logistic operations or new Internet-based firms looking for a central location to process and ship orders."
Indeed, over the last 10 years, "the amount of bulk warehouses in the area, defined as buildings bigger than 200,000 square feet with at least 28-foot ceilings, has grown 47.5 percent, from 13.1 million square feet to 19.4 million square feet last year," the newspaper reported, and will more than double again in the coming decade.