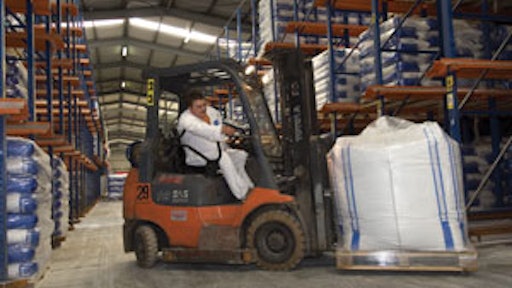 Despite this year's high-profile recalls of baby formula, pet food, peanut butter, toothpaste and even baby toys, progress is being made to set the foundation for improved product safety and traceability.
Technology and standards advancements are making it easier for food companies to leverage their existing processes to gain greater visibility and control.
If you're thinking this is another article about the promise of RFID, you're wrong. Bar codes will again play a central role in improving safety, security and efficiency in the food industry. Bar coding is at the heart of three related developments that could transform the food supply chain:
The GS1 Global Traceability Standard, which supports data structures and bar code formats commonly used in the industry;
Emergence of 2D bar codes, including GS1 DataBar, which is scheduled to replace the UPC and EAN symbologies;
Advances in imaging technology that make it possible and practical to read both linear and 2D bar codes at near and far range in distribution centers.
RFID holds promise too, especially for its ability to be read when there is no direct line of site to the reader and to identify multiple objects simultaneously. But increased use of bar coding is a more immediate and practical option for many companies to meet growing traceability and efficiency needs. Bar codes are already integral to food production and distribution operations.
Companies can expand their bar code programs now to improve traceability, while evaluating whether RFID would be beneficial. Here's how emerging bar code technologies and standards could impact food logistics operations.
Global Traceability Standard
Last year GS1, which oversees the UPC/EAN and EPC systems, released its inaugural Global Traceability Standard. It is a business process standard that provides companies in all points of the supply chain traceability one step back and one step forward, forming a basis for improved security, counterfeit prevention and rapid response to recalls.
The standard can be applied to virtually any industry and has received strong support from the food and retail sectors, including an endorsement from the GMA/FPA (Grocery Manufacturers Association/Food Products Association).
One reason the standard is very appropriate for the food industry is that it supports many numbering systems and bar code formats that are already commonly used. Companies can use their existing Global Trade Item Numbers (GTINs), Serial Shipping Container Codes (SSCCs), Code 128, Data Matrix and GS1 DataBar bar code symbologies and even Electronic Product Code (EPC) RFID technology with the standard. Therefore it provides tremendous flexibility, while creating a standardized way to gain visibility and communicate with supply chain partners.
GS1 DataBar Bar Code Symbology
GS1 DataBar (formerly known as Re-duced Space Symbology, or RSS) will transform retail food operations and can also have an impact earlier in the supply chain. It has been tabbed to replace the U.P.C. and EAN symbols currently used on consumer goods. GS1, which developed and maintains both standards, has set a "sunrise date" of January 1, 2010 for retailers to support GS1 DataBar and expects 85 percent of retail systems to be compatible by that time.
GS1 is encouraging the switch because GS1 DataBar can encode more data and facilitates more efficient identification and management of loose and variable-weight items, including produce and meat. There are 2D versions of GS1 DataBar bar codes that can be used to encode standardized application identifiers (AIs), including lot codes and expiration dates. There is precedent in the pharmaceutical and healthcare industries, where 2D bar codes are widely used at the item level to manage sterile and perishable items by expiration date, support automated stock control and to meet traceability requirements.
2D Becomes Practical
Two-dimensional bar codes could always encode this kind of information to support more effective business processes, but they have not always been convenient or practical for food producers and distributors to use in their daily operations. Advances in imaging technology are changing this.
Until very recently, technology limitations with area imaging often made it impractical for organizations to transition from legacy 1D bar code applications to use 2D symbols. Laser scanners cannot read all 2D formats.
Area imager scanners, which excel at 2D reading, couldn't read 2D codes at distances greater than an arm's length. The same scanner used to read a 2D symbol on a product also couldn't read the location code of the warehouse shelf the product was picked from. That limitation led to application tradeoffs that stifled adoption.
With the development of a new generation of area imager scanners, these tradeoffs are now going away. Newly released area imagers can read both linear and 2D bar codes at distances ranging from a few inches to more than 50 feet, which opens up a whole new set of opportunities.
Now the same scanner can be used during one shift to read pallet labels and warehouse location bar codes at long distances for receiving and putaway operations and during the next shift to read compact 2D codes on individual items for unit picking and packing.
Improved scanning flexibility makes it practical to encode lot codes, serial numbers and or other variable information to supplement traditional 1D bar codes used for inventory and shipping applications. For example, a meat processing facility could use such scanners to identify large labels on incoming sides of beef and again after meat is processed to apply 2D labels on individual cuts with origin, sell-by date, weight and PLU data.
Improved convenience is helping 2D use grow. Today 2D applications are being adopted at more than double the rate of traditional 1D bar code technology, according to market research firm Frost & Sullivan, which expects many organizations to use both 1D and 2D bar codes together in their processes.
Imaging technology can also improve legacy bar code processes where laser scanners are used. Unlike lasers, imagers can read bar codes in any orientation. Workers become more productive when they no longer have to twist, turn or otherwise orient an object to line up with the scan beam. In a head-to-head test using a large sample of volunteers scanning 50 bar codes using a handheld computer equipped with an area imager, the volunteers completed the scanning in two thirds of the time it took while using laser scanners.
The dangers of food safety and brand counterfeiting are growing and so are auditing, documentation and traceability requirements. Bar code technology, which years ago revolutionized retail checkout and inventory management operations, has evolved and is again poised to help the food industry meet its tracking challenges.
Rasmussen is the consumer goods and industrial goods industry marketing director, Intermec Technologies Corp., Everett, WA. Contact him at Jon.Rasmussen@intermec.com.