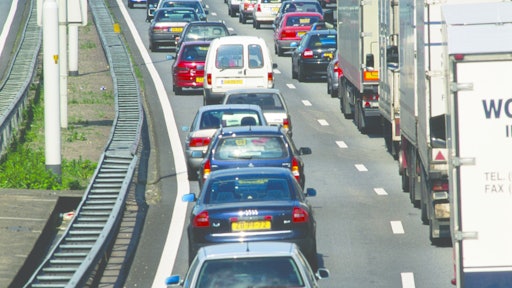 While the federal hours-of-service (HOS) rules that took effect last July are intended to make driver schedules more predictable, they've caused more than a few sleepless nights for fleet managers, load brokers, and logistics pros.
By itself, a traffic jam or a holdup at a dock is inconvenient. But, the new rules leave little room to absorb the cumulative effects of common delays. Consider how the new HOS rules can complicate a trip from Chicago to Houston, typically a two-day haul:
Zero Hour: Saturday, 2 a.m.
A driver returning from Eau Claire, Wisc., reaches his terminal in Chicago at 2 a.m., two hours late because of a delay en route. He parks his truck and heads home to sleep.
Ordinarily, the driver would pick up his next load on Sunday night to avoid Monday morning commuter traffic. Since he doesn't have enough hours to roll over into Monday, the driver has to use the 34-hour "restart" provision.
He's only allowed to use it once a week (168 hours); he must be off duty for 34 consecutive hours, including two periods between 1 and 5 a.m. That means the driver isn't eligible to depart until 5 a.m. on Monday, 51 hours away.
Practically speaking, the driver was penalized 17 hours because he finished up at 2 a.m. on Saturday instead of midnight. This illustrates one reason the new restart provision has come under such criticism: the 5 a.m. start puts truckers smack into rush-hour traffic.
Now, back to the job at hand.
If there are no major delays, a 5 a.m. departure on Monday should give the driver plenty of time to reach Houston by 3 p.m. on Tuesday. The 1,088-mile trip usually takes about 19 hours of driving, and he has 34 hours to complete it.
Day 1: Monday
5 - 5:30 a.m.: The driver arrives at the terminal in Chicago. He finds his trailer, hooks up, and conducts a pre-trip inspection. Although he departs at 5:30 a.m., his on-duty clock is already at 30 minutes.
5:30 - 6:45 a.m.: As it turns out, I-55 is jammed. It takes an hour and fifteen minutes to run the 39 miles to Joliet.
6:45 a.m. - 1 p.m.: The morning goes better until Mount Vernon, Ill., where construction has dropped traffic down to a single lane. After losing a half-hour, the driver takes his mandatory 30-minute break; it takes an extra 15 minutes just to find a safe place to park.
1:45 - 4:45 p.m.: The driver gets back on the road and then pulls off for coffee and a check-call to his dispatcher.
5 - 6:15 p.m.: Now in West Memphis, Ark., the driver has maxed out his hours for the day. Required to take a 10-hour rest, he refuels, inspects his rig, and then logs off duty at 7 p.m. All told, he's covered 559 miles in 11 hours of driving.
Day 2: Tuesday
4:15 - 5 a.m.: The driver wakes at 4:15 a.m., but he has to wait until 5 a.m. to start driving because his 10-hour off-duty clock didn't reset until 7 p.m. the night before.
5 - 9:30 a.m.: At 7 a.m., outside of Little Rock, traffic costs the driver another 30 minutes. Later, an accident in Texarkana causes another delay.
Now the driver is worried: will he make his 3 p.m. appointment? To cover 295 miles in 5.5 hours, he'll need to average 53.6 mph with no delays. Plus, he'll have to take another 30-minute break before he has driven eight hours. And the last 30 miles will be in heavy urban traffic.
Houston, we have a problem.
The driver knows that if he misses the 3 p.m. slot, he'll be rescheduled. He also knows that this particular dock doesn't take inbound loads in the mornings, so his next available appointment wouldn't be until 1 p.m. the next day. Should the driver call his dispatcher and ask to be rescheduled? Or keep going and try to talk his way into a late drop-off at the dock?
Truckers face HOS-related dilemmas frequently enough, but the new rules demand a more educated, strategic, and cooperative approach. The restart provision can increase time in rush-hour traffic. More frequent mandatory breaks take longer due to difficulty finding parking and navigating traffic. Construction and accidents almost always accompany long trips at some point.
Alarm bells are ringing, and hitting the snooze button on HOS isn't an option.