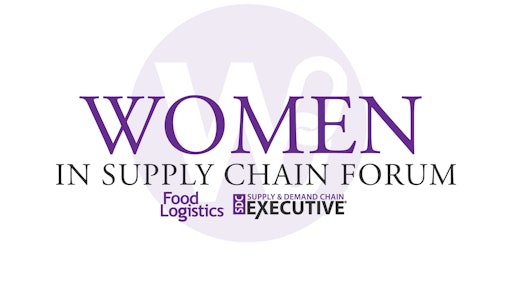 When I launched the Women in Supply Chain award three years ago, I was prepared for an uphill battle.
I envisioned a long road ahead in getting the supply chain industry educated enough as to why it was even important to recognize women in the supply chain. I was prepared for backlash and was ready for it come and go; an experiment gone awry.
To my pleasant surprise, the opposite happened.
Fast-forward to present day, and that award, which today garners more than 300 nominations in its third year for Supply & Demand Chain Executive, has become the stepping stone to what is now the Women in Supply Chain Forum, an in-person event designed to bring together CEOs, Presidents, Partners, VPs and Director-level decision makers at shippers, DCs, warehouses and 3PLs to learn, grow, network and more.
This event, which will take place Nov. 8-9 at the Starling in Atlanta, is the next step in further recognizing and celebrating women in supply chain.
We already have a host of leading females in the industry on board to talk supply chain risk, truck driver shortage, women in workforce and more.
Sarah Barnes-Humphrey, owner of Let's Talk Supply Chain podcast, will kick off the event with a discussion on the overall landscape of women in supply chain and logistics.
Ellen Voie, founder of Women in Trucking; Rebecca Brewster, president and COO of American Transportation Research Institute (ATRI); and Lindsey Trent, president and Co-Founder of Next Generation Trucking will come together to discuss how to alleviate the truck driver shortage.
Kathy Fulton, executive director, American Logistics Aid Network (ALAN), and Stephany Lapierre, CEO of Tealbook, will detail how to overcome today's supply chain disruptions.
And, Courtney Muller, president of Manifest and chief corporate development officer at Connectiv, will detail the ins and outs of women in workforce.
To kick off the event, title sponsor GreyOrange will host the Customer Experience Zone, where registrants will witness AI-driven software and smart robots that work together as a platform.
Attendees will also take advantage of fireside chats, Breakfast of Champions, more panel discussions and an invitation-only lunch.
And, to close out the event, we'll be honoring present -- and past -- recipients of Supply & Demand Chain Executive's Women in Supply Chain award. Hear from overall winner Lisa Morales-Hellebo, CEO and founder of REFASHIOND Ventures and REFASHIOND OS and co-founder at The Worldwide Supply Chain Federation, talk about women leadership, sustainable supply chains and her journey to becoming an active advocate for organizations that help minorities gain access to opportunities for funding, championship and growth.
Go to http://womeninsupplychainforum.com/ to register to attend for this in-person event.
And, together, let's continue to share in the education and networking of women in the supply chain.