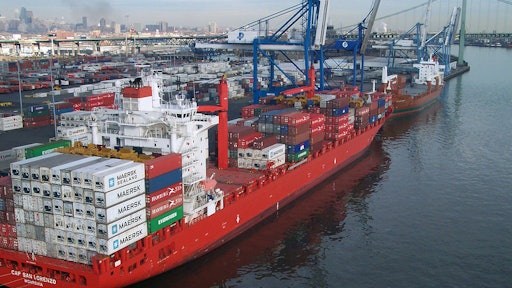 Containerized freight in 20- and 40-foot boxes was up 28 percent in the Philadelphia port in April compared with the same month a year ago, port officials said.
The U.S. import boom continued in April, with seaborne tonnage volumes up 8.9 percent from a year earlier in the nation's ports. Container cargo imports were up 8.7 percent in March, said a report by the research firm Panjiva.
"The standout performance among the smaller ports was from Philadelphia," said Christopher Rogers, an analyst with Panjiva.
The container increases, attributable to several new shipping services at Packer Avenue Marine Terminal, have pushed the Philadelphia port's national ranking up to No. 12, just ahead of Miami and below Port Everglades, in Fort Lauderdale, Fla.
Philadelphia handled 49,000 20-foot equivalent units (TEUs), a standard measure for container cargo, in April, compared with 38,800 in April 2016. "
With the long-awaited Panama Canal expansion completed, Mediterranean Shipping Co. (MSC) last August began a weekly freight route to Philadelphia, hauling grapes, blueberries, other various fruits, and cargoes from Chile, Peru, and Ecuador, said Eric Holt, whose family runs Packer marine terminal. The MSC ships sail through the larger set of Panama Canal locks. They are the largest cargo ships ever to come up the Delaware River.
In January, the fruit company Fyffes began shipping bananas, plantains, and pineapples to Packer terminal from Costa Rica, Columbia, and Guatemala. The business on SeaLand, a carrier of the Maersk Group, prompted other distributors, including Walmart, to begin shipping their fresh produce here as well.
Since February 2016, a new ocean route from the Gulf of Mexico has brought containers directly to Philadelphia carrying Samsung dishwashers and refrigerators, sugar, and Corona beer.
"Generally speaking, the East Coast ports did best, with Savannah reporting 19.4 percent growth compared to a year earlier and Norfolk up 14.6 percent" in April, the report said. "The main losers were the Puget Sound ports of Seattle and Tacoma," whose cargo volumes fell 1 percent, and New Orleans, which shrank by 21.3 percent.
Find information on port growth HERE.