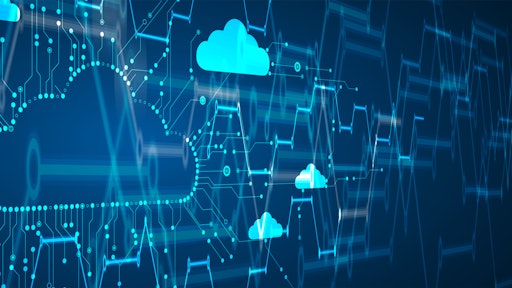 krass99/stock.adobe.com
It's clear that digital transformation is no longer just a choice for businesses - it's a must. While there are many reasons why companies may choose to undergo this change, the most pressing one today is survival. With supply chain disruptions intensifying time-to-market pressures and heightening customer expectations, the ability to swiftly adapt has become a make-or-break factor for organizations across a variety of sectors. According to data from IDC's 'Worldwide Digital Transformation 2022 Predictions, 50% of companies are now implementing a digital transformation roadmap. In contrast, two years ago, 73% reported having no digital roadmap at all.
One area that plays a crucial role here is the adoption of cloud technology within global supply chains. This includes enhancing legacy manual processes through automation, improved deployment and less frequent bottlenecking, as well as a more efficient and affordable packaging process. In manufacturing, three issues have stood out as priorities as businesses take advantage of the cloud to improve their digital posture: sustainability, cost pressures and ongoing supply chain disruptions.
Cloud alleviates disruptions and improves efficiency
According to Loftware's '2023 Top 5 Trends in Labeling & Packaging Artwork' report, which surveyed nearly 500 professionals from organizations across all major industries and 55 countries, 80% of business leaders surveyed have experienced a direct business impact as a result of supply chain issues. That's why organizations need labeling solutions that are resistant to supply chain disruptions.
Companies of all sizes are looking to expand into new regions across the globe. As they realize this growth, their supply chains and labeling practices will become increasingly more complex, which can lead to inefficiencies and disruptions if operating disparate legacy solutions.
Cloud-based labeling, however, allows companies to maintain existing systems and user interactions to scale labeling across their entire business ecosystem. Additionally, this approach increases the elasticity of a manufacturer's overall labeling system, giving users more flexibility with re-provisioning, adding or expanding technological infrastructure resources.
Most importantly, businesses can swiftly onboard new sites quickly and extend labeling to suppliers and partners. With multiple locations, new suppliers, partners and 3PLs gaining flexible access to centralized labeling and label content, there is a dramatic reduction in disruptions, slowdowns and labeling errors, meaning costly relabeling can be easily avoided. This is crucial to ensuring business continuity and supply chain agility.
Furthermore, rather than creating, copying or updating label templates at every site, accurate and compliant labels can be quickly accessed from any location at any time. This removes the uncertainty and human error involved in generating new labels at each site, which can negatively impact time to market and result in supply chain bottlenecks.
Cloud helps to reduce business costs
Companies can dramatically reduce costs associated with labeling errors by harnessing the power of cloud technology. At the annual Convergence conference last November, John Blake, senior research director at Gartner, highlighted the costly results of inaccurate labeling and discussed how non-declared allergens, mislabeling and inaccurate packaging graphics continue to be a leading cause of product delays and recalls, ultimately costing manufacturers millions of dollars in lost sales. However, implementing a cloud-based labeling solution – one that links labeling processes with business processes to drive speed, accuracy and compliance – helps to eliminate the risk of labeling errors, thereby saving companies money, time and brand reputation.
Additionally, the cost of owning large on-site enterprise software systems has historically been prohibitive for small to mid-sized businesses. Employing large teams to maintain an expensive IT infrastructure was too much for these organizations. However, cloud-first business strategies have given these companies access to world-class systems. Rather than paying a hefty fee, manufacturers can spend on a subscription basis and upgrade their plans as needed. Additionally, without needing to purchase or maintain IT infrastructure or support large IT teams, these organizations can reallocate this money back into their businesses.
For manufacturers that adopt this technology, the cloud provides an opportunity to access new markets. As they scale into new regions, common data available in the cloud gives geographically dispersed partners and suppliers the information needed to unify their business processes and tweak labeling content on the fly. With improved traceability across the supply chain, companies can quickly identify expensive problem areas in their labeling ecosystem and rectify the issue. For example, suppose bottlenecking occurs somewhere in the manufacturing chain, access to this data from the cloud in real-time enables the business to recognize and fix the issue before it's too late.
Stay on track with your sustainability goals with the cloud
With ESG and sustainability becoming increasingly mainstream, businesses are incorporating sustainably focused corporate goals. Loftware's 2023 research found that 76% of organizations already have a sustainability initiative, indicating how important this issue is across all sectors. However, as they look to meet these targets and set a new standard for responsible business, organizations must ensure their supply chains reflect this commitment.
With this in mind, digital traceability driven by cloud technology can help to achieve these objectives by allowing companies to track their products across the entire manufacturing process. Being able to trace products both upstream and downstream is important for managing the product lifecycle and ensuring sustainable sourcing. These intelligent supply chains can track, trace and authenticate goods at every stage of the journey, from raw materials to consumer goods. This can help to reduce a large global footprint, and the improved reliability of a supply chain rooted in cloud technology ensures that products are made, shipped and delivered to the correct destination, thereby helping to reduce the amount of unnecessary waste.
Cloud technology will revolutionize supply chains
As globalization continues to shape the manufacturing landscape, businesses are feeling increasing pressure to optimize their supply chains in order to meet growing demands, all while staying environmentally sustainable. With the adoption of cloud technology for their labeling operations, manufacturers now have an unprecedented opportunity to achieve both goals. Cloud technology is the key to unlocking greater supply chain efficiency, sustainability, and profitability for manufacturers. Armed with a clear roadmap to digital transformation, businesses can confidently embrace the future of manufacturing and ensure their long-term success.