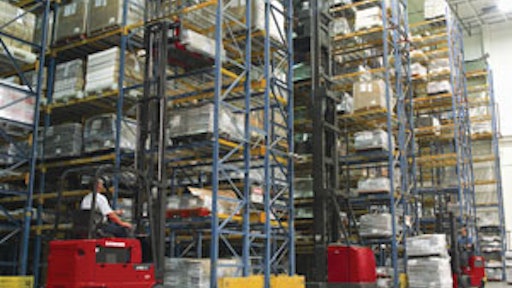 Lift truck safety training is a big issue and it should be: the monetary damages and loss of life that can result from accidents with lift trucks is staggering. The National Institute for Occupational Safety and Health (NIOSH) released a report in June 2001 stating that forklifts strike people every day in the U.S., resulting in 100 deaths and over 20,000 injuries annually. The costs incurred due to forklift accidents are over $100 million a year.
There are dozens of companies out there that are solely dedicated to offering operator training or "train the trainer" type courses. In addition, most of the lift truck manufacturers offer training courses that are specifically focused on the types of trucks that they offer.
"Our safety training program is called 'Safety On The Move' and it's actually available to customers in two ways," says Mike Angelini, manager of field training services for The Raymond Corp., Greene, NY. "It's available as a class from a Raymond dealer or we have a package that the customer buys from the dealer. The program is a multi-media one, there are slides, videotape and text material."
Safety On The Move uses interactive discussions and demonstrations of safety principles, video-based examples and hands-on sessions. The training modules cover such topics as safety, the operator's daily checklist, travel procedures, safe load handling, ramps and loading docks, batteries and operating the truck itself.
Matt Hays, general manager at Hays' Food Systems, a wholesale food distributor in Warrenton, MI, took the Safety On The Move course at Raymond's headquarters and sings its praises. "It's a really good course and we've recently implemented it here. We have not had an accident in 14 or 15 months."
"Programs such as this can help you improve your bottom line by reducing accidents, work disruptions and product damage," says Angelini. According to Raymond, industry studies have shown that effective operator training can improve worker safety performance by up to 70 percent.
However effective as the initial training might be though, some warehouses may be missing the boat on a number of important fronts when newly-trained trainers come back from their training sessions and set out to apply what they have learned to their in-house lift truck operators.
What's Lacking?
"A lot of folks think that if they just go to some generic course and they're trained on the forklift, they're good to go," says Patrick Kapust, safety and health specialist for occupational and safety health specialists at the Occupational Safety and Health Administration (OSHA).
"But as part of the standard, there are not only truck-related topics, there are also workplace related topics, where you need to go over the types of conditions at the specific place where the truck is going to be operated," says Kapust. "There could be blind corners, there could be ramps, there could be traffic considerations and so forth."
According to OSHA Regulation 1910.178 "The employer shall ensure that each powered industrial truck operator is competent to operate a powered industrial truck safely, as demonstrated by the successful completion of the training and evaluation…" The regulation goes on to say that the training shall consist not only of formal instruction and practical training, but also "evaluation of the operator's performance in the workplace."
"An important part of the training is to go over whatever specific issues may be at that workplace," says Kapust.
Workplace conditions that operators should be trained for must include:
• Surface conditions where the vehicle will be operated;
• Composition of loads to be carried and load stability;
• Pedestrian traffic in areas where the vehicle will be operated;
• Narrow aisles and other restricted places where the vehicle will be operated;
• Hazardous (classified) locations where the vehicle will be operated;
• Ramps and other sloped surfaces that could affect the vehicle's stability;
• Closed environments and other areas where insufficient ventilation or poor vehicle maintenance could cause a buildup of carbon monoxide or diesel exhaust; and
• Other unique or potentially hazardous environmental conditions in the workplace that could affect safe operation.
"OSHA has a formal training program in mind," notes Judy Smithers, an OSHA requirements specialist at J.J. Keller & Associates, a Neenah, WI publisher of guidance materials for employers on how to comply with OSHA. "A lot of employers would rather take the easy way out. They buy a training program off the shelf and sit somebody down in front of a computer. Then they say: 'Okay, now John is going to show you how to drive the truck' and that's the end of it."
"When they take our train the trainer class we find that they know the regulations but they don't realize the evaluation is a separate thing," says Wayne Wilde, director of service and technical publications for Nissan Forklift Corp., Marengo, IL. "There's a workplace evaluation. They're evaluating the guy on the class of forklift that he's going to be operating, but they're not evaluating him in his work site."
Wilde emphasizes that trainers should be talking about specifics around the production area, where separate issues might come up. "Say they're working on the dock area but then they have to go to the production area," says Wilde. "There might be certain hazards there such as low-hanging pipes, extra pedestrians or product that they shouldn't run by. They're not learning about specific work conditions that they should be aware of."
Addressing The Problem
J.J. Keller's Smithers suggests that for a company to put together an effective training program they have to take a look how they're using the trucks in the workplace and what types of potential situations operators might be confronted with. The company should focus the training content on that.
"Somebody at that work site has to do the on-site training focused on what the specific working conditions and hazards are," agrees Nissan's Wilde. "What are the speed limits? Are there any pedestrian areas? You have to say to them: 'in this area, watch out for wet floors.'"
Other hazards might include narrow aisle ways, piles of parts that may be dumped on the side and are spilling into aisles, hazardous locations an operator may pass through on the way to picking up or delivering materials, such as flammable spraying operations and so forth.
"They also need to have a very good grasp of what the flow of material at their workplace will be," adds OSHA's Kapust. "They need to be trained to follow that flow. It's as basic as saying: 'the delivery trucks come to this dock and we unload over here, we store our raw materials there and this is where the final product ends up.'"
Matt Hays of Hays' Food, agrees on informing operators about materials flow. He says it is also important that you include them as part of that flow. "It's very important for operator safety that you stage everything a day prior. Stage your loads so you're not trying to load fifty trucks at one time. That way, you won't have 20 forklifts out on the dock trying to move around and banging into each other."
"The employer, with their basic knowledge of the flow of materials within their facility, as well as the manufacturing process, is going to be the major determinate of what topics need to be covered," adds Kapust.
Another part of lift truck safety training that companies might be neglecting relates to the types of materials that employees may actually be asked to handle. As previously noted, companies are specifically required to train operators on whatever it is they'll be picking up.
According to Nissan's Wilde: "They've got to say to the operators: 'okay, we've got this hazardous material that comes in once a month and this is how you handle it-you reduce speed, the pallet is straight, the work center is centered and the forks are all the way back. It causes the floor to get wet because it's sweating until we get it to the production area, so watch out for slippery floors.'"
"A lot of folks do walk-arounds," says OSHA's Kapust. "It helps them identify what kinds of hazards their operators need to be aware of. They're able to find holes in the floors, that sort of thing."
Dave Piasecki, of Inventory Operations Consulting, a Kenosha, WI-based company that assists manufacturers and distributors in warehouse operations, agrees. "It comes down to proper monitoring and supervision to identify the new hazard and make sure the operators are trained for it."
He suggests that workers also need to be trained to stop and check with their supervisor if they encounter a condition they have not been trained for.
The last part of the puzzle, says the experts, is for company officials to conduct thorough evaluations of their lift truck operators, in which observers evaluate the operators driving their vehicles under the specific conditions in their facility. "Did they understand the training?" Asks J.J. Keller's Smithers. "Follow them around with a clipboard to make sure."
Choose Wisely
Perhaps one of the keys to instating an effective lift truck safety program at a facility involves the choice of which individual a company decides to send out for the initial training.
"You can't just take somebody that has the best knowledge and make them a trainer," explains Nissan's Wilde. "They have to be able to communicate back to the trainees." According to him, a program may contain all the right modules and cover every topic in depth, but if the trainer does not have the necessary abilities that transferring his knowledge to other people entails, operators simply won't learn. "He's got to have good communication skills."
Maintaining lift truck safety ultimately remains the company's responsibility. It is up to officials to go the extra step when training to make sure that operators are aware of the varying conditions they will have to face when operating their vehicles.
"Sometimes it takes a little while to properly complete the training process, but all you have to have is one accident by an untrained person to really realize how much it costs," says Ryder's Angelini.

Companies in this article