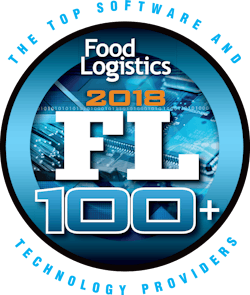 Each year Food Logistics showcases software and technology companies that are leaders within the food and beverage industry. Their solutions and services provide companies the opportunity to improve productivity and gain efficiencies within their enterprise.
Now in its 15th year, the FL100+ features software and technology companies that specialize in products designed to address the unique challenges of the food and beverage supply chain. This list offers an inside look at companies whose products and services ensure efficient transportation and warehousing, minimize operational waste, facilitate safe operations and assure regulatory compliance. To view the complete list of recipients and their capabilities, please click here.
The above slideshow features expanded profiles of select companies on this year's list. To read the complete profiles of the features winners in a list format, please click here.