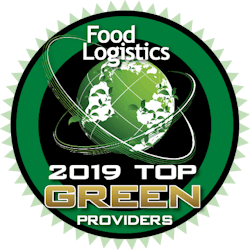 Sustainability is on every company's mind as consumers are wanting to know where their products are coming from and if they're ethically sourced. Studies have shown that consumers will become loyal to companies that have a good global conscience. In the food and beverage industry, having a green initiative is seen as a must-have in order to reduce the global food supply chain's carbon footprint. Food Logistics' annual Top Green Providers list showcases companies that have found new ways to promote sustainability throughout their operations and for their customers.
This year's list consists of 3PLs, technology companies, transportation providers, cold storage providers and many more that have upped their game to become leaders in the sustainable global food supply chain.
Alliance Shippers is committed to reduce negative impacts on the environment by continuing to lower its carbon footprint and adding new sustainable refrigeration units to its fleets. The company's refrigerated trailers are equipped with two-way cellular tracking devices, drawing power from a battery source within its refrigeration units. This allows Alliance to always have a GPS location on its assets, as well as the ability to turn the refrigeration unit on and off at any time. Meanwhile, investments in solar panels allow it to use the sun's energy to continuously charge batteries on its trailers, lower fuel consumption and reduce emissions to benefit customers and the planet.
Avenger Logistics LLC
Avenger Logistics has the unique opportunity to select the carriers it uses to haul customers' freight as a SmartWay Transport Partner. The company has a directive to utilize a system that weighs whether or not a carrier is a member of SmartWay and give customers and dispatchers the autonomy of choosing which companies are the most responsible choice for the company. Avenger Logistics is committed to not let drivers travel more than 100 miles to their next shipment.
Cass Information Systems provides solutions through the utilization of technology to obtain cost and processing efficiencies for its customers. These solutions help customers meet green supply chain goals and accelerate the amount of electronic interchange among its customers, their freight carriers and Cass, resulting in reduction of paper transactions. For the limited paper transactions that do occur, Cass images all documents and has them available to view online. With all information available electronically, the need for files, storage and document transfers are eliminated.
Controlant provides proactive farm-to-fork supply chain visibility for the cold chain. The company is proactive about waste prevention and helps drive sustainable initiatives for its customers. The company's IoT data loggers track a product's temperature and location in real time as it moves throughout the supply chain. Data is automatically sent to a cloud-enabled software platform, allowing food enterprises to manage and monitor every shipment. The software platform also prevents product waste and drives operational improvements over time as businesses connect time, temperature and product location for all shipments.
CT Logistics has invested in software development the last two years to provide shippers with the tools to make greener choices in their supply chain every day. The company developed its FreitRater Lion software to help shippers drive energy efficiency with routing analysis technologies. Built for shippers to maximize lane effectiveness and facilitate customer experience, the software offers optimal/greener transportation mode selections for shipping. The software also enables shippers to choose environmentally conscious routings, mode selections and carriers with the shortest transit times to reduce fuel consumption and lower CO2 emissions.
DSC Logistics is committed to its sustainability goals. The company aims to eliminate waste and cost in its supply chain and has programs in place to reduce emissions, consolidate shipping and redesign its network to better place distribution centers and optimize transportation routes. In addition, the company is reducing utility metrics (electricity and water) across all locations by 8 percent year over year. In 2018, DSC achieved an 11.6-percent reduction in carbon emissions.
FGI Universal LLC
FGI Universal strongly relies on the world's oceans, believing it is the company's duty to protect bodies of water—especially because it does so much for us in return. For every order placed with FGI, a portion of the proceeds go toward cleaning the oceans. In addition, FGI's contribution to environmental advocacy groups has more than tripled in the last year and has been recognized by the Ocean Conservancy as one of its Champions for Sea Change. Just this year the company has made a goal to remove over 100 pounds of plastic per month from the oceans and continue to provide financial support with environmental advocacy groups as well.
FST Logistics is focused on reducing emissions and increasing fuel efficiency transporting its clients' products. With 30 new trailers, 10 CNG and 9 dual fuel trucks, the company continues to grow its participation in programs such as SmartWay, Green Power Partnerships and Green Spot Columbus. By being a part of these programs, FST must submit information and measurement data proving its impact on sustainability. The company purchased 60-percent wind power in Renewable Energy Credits and has reduced its use of water, electricity and transportation as well. FST partners with clients on green initiatives and sustainability efforts, believing these multi-approach initiatives bolster efforts within the industry on a local, national and global scale.
For the last two years, Jarrett has participated in a paperless initiative. By the end of 2018, 90 percent of all incoming invoices were submitted electronically. Over 355,000 invoices have been digitized over the last two years, with an expectation that over 225,000 invoices will be incoming electronically just this year. The Paperless Initiative is integrated in the carrier on-boarding process. Currently, 26 of 33 carriers utilized are part of the sustainability program, empowering Jarrett to identify accurate billing information at a faster clip for food and beverage clients.
Kane Is Able is devoted to reducing pollution and congestion with smarter trucks and delivery methods. The company is part of several sustainable groups, helping them contribute to their green mission. In 2018, the MHE fleet was equipped with Crown's InfoLink operator and fleet management system to help the company better understand when, where and how each forklift was being used. Additionally, reuse is essential to KANE as no material is wasted if it has potential for recycling.
As one of the most sustainable companies in the pallet world, Lightning Technologies' new GMA pallet can be sanitized, pooled and embedded with an IoT BLE sensor that provides track and trace opportunities, humidity and g-force data through a Gateway to a Lightning-managed cloud. The solution helps reduce waste, operational costs and provides a measurable reduction in Scope 3 carbon reductions as the pallet is lighter than current pooled pallets. In addition, the pallet qualifies under an existing VERRA carbon methodology for the transportation of lightweight pallets.
To put it simply: Matson Logistics' assets, systems and processes help reduce the carbon and environmental impact of its customers' supply chains. Preserving the environment and the health of communities is a core value for Matson as it continues to be the only container vessel operator with a zero-waste discharge policy. The company's Savannah Logistics Warehouse is LEED certified, and soon all its warehouses will use LED lighting. In addition, several facilities use "passive night air" cooling systems to reduce the use of electric chillers and HVAC. Matson has also been EPA SmartWay certified since 2008 and a Top Transport Partner since 2013.
Murphy Logistics
Murphy Logistics' sustainability initiatives are models for the logistics industry as it embraces green practices throughout its 3.2 million-square-foot warehouse. The campuses are populated with solar-paneled roofs and have energy-efficient LED lighting, earning it LEED Gold and Energy Star certifications. In addition, the company's sustainability initiatives also include energy savings and power generation, carbon sequestration, pollution abatement, recycling and resource management.
To support sustainability within the food and agriculture industry, NSF works with companies to improve social and environmental impacts. The company has focused on supporting regenerative agriculture practices across the food industry this year. With Regenerative Organic Alliance, NSF has developed and launched a certification program, serving as a Design Team Partner on the development of the Soil Carbon Initiative. Along with that, NSF demonstrates its commitment to sustainability by upholding numerous eco-friendly practices such as undergoing regular water quality assessments, regular recycling programs and has its own sustainability committee that focuses on employee education.
Odyssey Logistics & Technology
For Odyssey Logistics & Technology, choosing an intermodal tank made both economic and environmental sense as they have been proven to be a leading eco-friendly form of transportation. The tanks are stackable and reusable, resulting in a more sustainable and greener form of transportation. In addition, the company's flexitank services helps customers reduce their carbon footprint through one-way transportation. After discharge, there is no need for cleaning of the equipment or empty back-haul transit as it is simply recycled.
As a leading reusable packaging manufacturer, ORBIS Corporation can bring significant financial and operational benefits to supply chains across several industries. The company offers a large portfolio of products that can improve production flow, reduce costs, enhance food safety and increase sustainability. ORBIS provides alternatives to the disposal of excess, surplus, damaged or obsolete plastic packaging. Just last year, more than 40 percent of the resin ORBIS used to manufacture product was made from recycled content. In addition, ORBIS started a Recycle with ORBIS program designed to recover, recycle and reprocess plastic material into other useful products. At least 33 percent of ORBIS' recycled content is from recovered packaging.
Penske Logistics LLC
Penske helps its customers enhance their sustainability by using technology and its warehouse management system (WMS). The WMS provides efficient movement of goods through the supply chain, saving time, fuel and energy. The WMS guides workers through the warehouse, enabling them to complete multiple tasks simultaneously. In addition, the WMS and the labor management software provide visibility to all tasks within the warehouse so they can be prioritized. This kind of visibility promotes greater accuracy of shipments and facilitates better use of space and personnel. Penske also implements numerous internal initiatives to be more sustainable, such as performing annual GHG emissions information and energy usage/reduction efforts for the Carbon Disclosure Project, conducting energy audits and analysis to identify opportunities to save money, and reduce its carbon footprint and more.
By developing zero-emission hydrogen fuel cell (HFC) power solutions, Plug Power is able to provide affordable, sustainable and efficient power that food logistics customers use in their electric lift truck fleet. Just this year, HFC solutions are expected to expand into global markets, bringing improved productivity to warehouse operations. HFCs enable Plug Power customers to reach new heights in facility productivity with affordable, efficient and clean hydrogen and fuel cell power.
By using solar power to generate its cold storage facilities, RLS Logistics is 100-percent sustainable in power generation. Its newest facility in Delanco, New Jersey, utilizes CO2 refrigeration, eliminating the need for freon and ammonia, which have negative effects on the environment. The company has also invested in several green initiatives that not only support the environment, but also save clients' money.
As a pioneer in supply chain, Romark Logistics prides itself as a leader in the establishment of warehousing sustainability. The company considers "green" to be a core commitment that benefits its employees, customers and the communities it serves, while striving to exceed the expectations of the food and beverage industry. Romark is committed to continually decreasing its carbon footprint in all aspects of business and is looking to utilize cutting-edge technologies to achieve this goal. The company currently operates in the high 90 percentile for landfill free/landfill avoidance, aiming to have all locations as landfill- and carbon-free facilities.
With a growing temperature control container fleet, Tiger Cool Express has the capacity to provide reliable intermodal service across the world's premier freight network. The company is committed to providing time definite intermodal services and offers sustainable capacity in key markets, superior fuel efficiency versus over-the-road trucking, and product integrity. Tiger Cool Express believes that being green means having smarter logistics. With its fuel-efficient 120-gallon diesel tanks and fuel monitoring, the company can significantly reduce its carbon footprint by going intermodal. It is compliant with environmental guidelines and regulations, participating in several sustainability groups.
With 29 percent of greenhouse gas coming from transportation, Trimble's vision is to provide the food and beverage supply chain with technology to help create smarter, greener and more sustainable decisions. Through the company's technology, transportation organizations can save fuel, time and money, eliminating safety risks and improving the bottom line through better route management and vehicle performance.
Veritable Vegetable
As the nation's oldest organic produce distributor, Veritable Vegetable ensures that its environmental efforts are far reaching and include reducing waste from landfills. The company recycles, composts and reclaims nearly all used materials and has a 560-panel solar array. All lighting fixtures are sensored and energy efficient. Meanwhile, sustainable materials and non-toxic cleaning supplies and paints are used throughout the facility as well. The company's near-zero emission fleet incorporates hybrid trucks and refrigeration units as well.
Cold storage facilities require the highest energy demand per cubic foot of any industrial electricity load, leaving high costs across the industry. Viking Cold Solutions' thermal energy storage (TES) systems increase efficiency of refrigeration by an average of 26 percent and provide the ability to avoid peak energy periods for up to 13 hours per day. The technology allows the cold chain to cut energy costs, improve temperature stability and food protection, reach sustainability goals substantially faster and dramatically lower the industry's carbon footprint.
To view the full list of winners, please click here.
Companies in this article