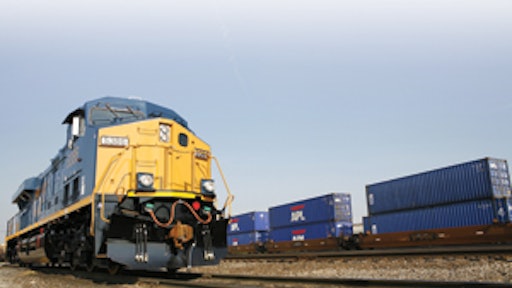 Jobless claims reach a 16-year high." "The Dow Jones Industrial Average drops another 500 points." "Congress refuses to bail out the faltering auto industry."
Over and over again corporations are bombarded with sour news regarding the U.S. economy and how a long and sustained recession is imminent.
However, amid the cries of economic disaster, there is some good news, at least for shippers in the food and beverage industry. This is a great time for domestic intermodal shipping, as well as for companies that export their goods overseas.
According to the Intermodal Association of North America (IANA), domestic intermodal shipping had its best performance this quarter since the second quarter of 2004. This was lead by a strong 10.5 percent rise in domestic containers, which according to the IANA, made this quarter the strongest quarter of growth since 1999. Add to this a two percent growth in domestic trailer volumes and overall domestic volume was up an impressive 6.7 percent. The soft market, it seems, is causing companies to reconsider transitioning their highway freight to intermodal shipping.
"There are a number of reasons to do so," says Steve Branscum, group vice president of consumer products for the Burlington Northern and Santa Fe Railroad (BNSF), Fort Worth, TX. "Among them are highway congestion, driver recruiting problems, the fact that consumers are eating in more and even the environment. Companies are looking for ways to reduce their carbon footprints."
Another reason is diminishing capacity on the part of truckload carriers. As the economy continues to tighten, more and more trucking companies are realizing that they can't turn a profit and are closing their doors.
"The shippers we're dealing with, huge Fortune 500 companies, are reducing their carriers to a level they can manage," says Rich Gutsell, vice president, national accounts for Alliance Shippers, a global logistics and transportation services company located in Englewood, NJ. He notes that one of his customers, a mere 18 months ago, was utilizing 140 over-the-road and intermodal carriers and is now down to using just 33.
"Their staffs can't handle as many carriers as they could in the past."
In addition to the shrinking capacity of dry trailers, a lack of reefers is causing the intermodals to see double digit increases in their own reefer businesses.
"At this point, there really are no large over-the-road reefer carries like there is in the dry freight arena, where you have large carriers like J.B. Hunt and U.S. Express--there are smaller players, but we are taking business from all of them," says BNSF's Branscum.
Fueling The Fire
Another reason that companies are switching to intermodal is the high cost of fuel.
"What we're hearing from our customers now is that a combination of high fuel costs and less demand for their products is forcing them to look at intermodal as an alternative to over-the-road shipping," says Steve Weiby, vice president of transportation for C.H. Robinson Worldwide Inc., a third-party logistics company located in Eden Prairie, MN. "They can save money in longer haul lanes on fuel costs by using intermodal instead of trucking good directly--because of this we're actually quoting more customers than ever."
CSX Transportation, a Class 1 railroad headquartered in Jacksonville, FL, has made a good show of this with the coast-to-coast produce train it runs, in conjunction with Railex, which ships produce from Washington to New York and back.
"With fuel in the $60 range, trucking is still very expensive and people in the Northeast still want vegetables in the winter. They're going to ship them one way or the other and our competitive position compared to the highway is a very powerful one," says Adam Weber, marketing manager for CSX.
Steve Van Kirk, vice president of commercial development, intermodal, at Schneider National, Green Bay, WI, agrees that the best value has traditionally been on the longer haul movement of transcontinental freight. However, he points out that his company has begun to focus on the shorter length hauls as well. Schneider's eastern network growth strategy involves moving into Florida from both Chicago and the Northeast and the "triangle point" between the Northeast and Chicago.
"Those buy-ins have historically been for truckload, but the CSX railroad has been offering some very competitive advantages in terms of how its network supports those loads--including an offering in fuel savings, line haul discounts and service in transit very close to what you would get from a solo truck driver," says Van Kirk.
Another reason experts point to is the fact that the overall reliability of the intermodal suppliers has been rising.
"We're running in the high 90 percentile bracket for on time, for a door-to-door basis," says CSX's Weber. "We also have a proactive customer service group that provides alerts for equipment that is out of schedule and also does rescheduling and recovery work."
Many companies are now more willing to have the railroads take their custom freight and, in addition to moving them interplant, they are now willing to allow them to deliver the goods to end customers as well.
"That's really where a lot of the intermodal growth is coming from," says Schneider's Van Kirk. "They used to say 'just move it to the warehouse and from there I'll load it onto a truck, instead of the rail.'" Now, he says, customers are willing to let them ship it directly to a customer. "It will be cheaper and on time."
Exports Up
As with domestic intermodal shipping, the soft economy seems to be having a positive effect on domestic food companies that interact with the nation's seaports--in a different sense, however.
"What's going on at the Port of Long Beach is just a snapshot of the economy. For the fiscal year-to-date, we're down quite a bit compared to last year in terms of imports," notes Ken Uriu, marketing manager for the Port, located in Long Beach, CA.
Long Beach is one of the country's largest port complexes. Nearly 20 percent of the nation's inbound goods pass through it. This year, however, that business is off by 10.8 percent. Uriu says that food exports are up though, by an impressive 21.1 percent, which is attributable to the devaluation of the dollar.
Similarly, the Port of Galveston is seeing that exports of grain are up substantially over last year. Through the end of August, total grain exports were up an amazing 72 percent. Overall, 21 million tons were exported, as opposed to 3.7 million tons in 2007.
Todd Biscan, spokesman for the Florida East Coast Railroad, Jacksonville, FL, agrees. His short line has seen an overall increase in the amount of food--items such as poultry--that it moves to the Port of Palm Beach, as well as to Port Everglade and to the Port of Miami. "There's been a tremendous amount of food product that the FEC railway moves down there to our steamship customers, which is ultimately exported."
This story is not the same for all U.S. ports, however. Some are struggling with exterior forces, beyond the economy, that are making times difficult for them. The Port of Corpus Christi, on the Texas Gulf, is facing a steep drop-off in both imports and exports. It had been moving honey dew melons and cantaloupes from Guatemala through its facilities on a regular basis, but that business has instead been shifted to Florida ports.
"We're thinking this is due to shifting trade routes," explains John Valls, marketing manager for the port. "If a shipper has a well-established trade route from the Panama Canal straight into Florida, then it already has the infrastructure on the other end waiting for it--stevedores, truckers and rail lines. It's already built-in where the company is comfortable."
In addition, the port has seen its poultry exports to countries such as Russia dry up. "You would think they would be buying it. Chicken is cheap."
He attributes this to the fact that there have been a lot of issues with poultry worldwide, such as the outbreak of bird flu in China, as well as the quarantining of chicken in Texas not too long ago.
"Things like this hit the industry hard and it takes a long time to recover from something like that," says Valls.
SHORT LINES, GREAT WINE
Not so long ago, the California Northern Railroad (CFNR), a short-line railroad owned by RailAmerica, Jacksonville, FL, a short-line and regional railroad operator, began providing expedited express train service to the California wine industry. Dubbed "The Wine Connection," the program is a coordinated effort between CFNR and Class 1 railroads Union Pacific and CSX.
The Wine Connection's cross country journey begins at a warehouse in American Canyon, CA, where wine is loaded onto boxcars that travel on an express lane to Ogden, UT and then to North Platte, NE. From there, the train is split up and moved to Chicago, for Northeast destinations and to St. Louis, for Southeastern destinations.
"A number of years ago, there wasn't any wine that moved through boxcars. It was primarily truck traffic. The trucks would haul the wine from the Napa Valley over to Oakland and San Francisco, thereby putting them on the highway," says Larry Gomez, associate vice president of sales for the western region, for CFNR.
CFNR, who already served Napa Valley warehouses, where the major wineries would bottle, store and ship wine from, was eager to get involved when the other companies approached them. They began to put programs together to generate rail boxcar traffic for wine.
The railroad has seen its relationship with the California wine industry ripen into a profitable business that moved 2,200 carloads of wine in 2007. Currently, there are four wine warehouses on the CFNR and two more are scheduled to open in 2009.
"It's healthy for everyone. The wineries can move their freight cheaper, so they can sell more. The distributors can buy more if they save money. It's good for the railroads and it also takes trucks off the highway," says Gomez.
Companies in this article