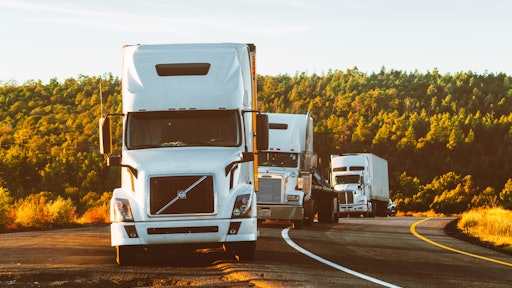 Pexels
Transflo introduced a suite of free digital tools to give truck drivers and fleets a single, trusted platform for information about how to safeguard driver health and keep supply chains moving during situations like the recent Coronavirus disease (COVID-19) pandemic.
"Truckers are essential to our economy and they want the latest information about trucking and coronavirus in one convenient place," says Frank Adelman, Transflo President and CEO. "We are listening and now provide free resources to help the industry manage business and stay up-to-date with this constantly changing situation. We're honored to be able to give back to this great industry and help safeguard drivers through the use of technology."
Transflo has established three resources for drivers and fleets:
Driver Assist Task Force: Transflo's Driver Assist Task Force is an online resource center where drivers and fleets can ask questions and get detailed answers about limiting the potential spread of the virus, keeping freight flowing, and streamlining business processes in a disruptive environment.
Social Sharing Platform: Transflo has created a social channel where drivers can engage with one another and share advice from the road. This platform is moderated to keep advertising and driver recruiting off the site.
Driver Assist Mobile App: The Driver Assist mobile app integrates health tips, industry news, a messaging platform for drivers and fleets, and details about document scanning, truck stop locations, and Cat Scale integration onto your mobile device. Driver Assist leverages Transflo Mobile+, the freight industry's most widely used workday management platform with a network of 60,000 carriers and over 1.4 million downloads. Transflo Mobile+ users will automatically gain access to relevant resources. Fleets and drivers who are new to Transflo can download the FREE app and follow the steps to set up their fleet.
"These new tools are free of advertising and exist solely to help with information and resource sharing for professional drivers and fleets," says Adelman. "As the industry's most popular mobile platform for virtually every aspect of the freight transaction, we feel we have a responsibility to help carriers and drivers during this time."
Existing users of the Transflo Mobile+ app will see the Driver Assist feature added to their existing app interface. Those who don't currently use Transflo can download a free version of the app on the Apple store now, and later this week on Google Play, too.
Transflo Mobile+ integrates navigation, weigh station bypass technology, and other features with Transflo's document scanning, image optimization, and digital workflow management tools. It also incorporates telematics and the Transflo T-Series ELD, which is connected to both the vehicle and Transflo Mobile+ on driver's mobile devices.