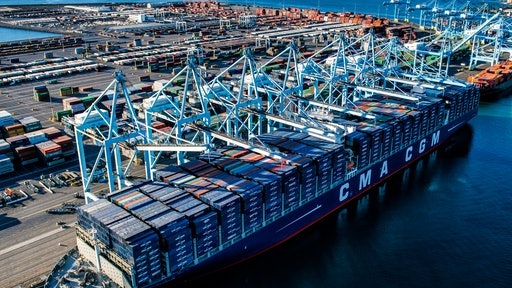 Port of Los Angeles
December 2022 U.S. container import volumes declined 1.3% from November to 1,929,032 TEUs vs. December 2021, where TEU volume was down 19.3% but only 1.3% higher than pre-pandemic December 2019, according to new research from Descartes.
Key economic indicators provide a mixed view of the U.S. economy. For example, employment increased by 223,000 jobs in December and unemployment declined to record levels at 3.5%. And, according to the U.S. Energy Information Association, gasoline costs declined slightly to $3.22 a gallon and is back to 2021 prices for the same period.
From Descartes:
While the overall volume was down slightly, half of the Top 10 U.S. ports saw volume increases with the Port of Los Angeles, reporting the greatest overall increase. The Ports of Houston and New York/New Jersey experienced the greatest decline.

China represented 35.4% of the total U.S. container imports, a decline of 6.1% from the high of 41.5% in February 2022. South Korea and India experienced the greatest decline while Japan had strong growth of the Top 10 countries importing into the United States.

Overall port delays in December 2022 were lower than November 2022. The major East Coast ports saw the greatest decrease and had no double digits wait times.