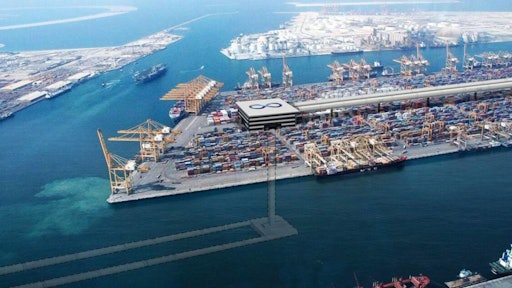 Hyperloop One Inc., one of two companies racing to build the futuristic speed-of-sound transportation technology, announced a new partnership with the one of the world's largest port-terminal operators, DP World, according to MarketWatch.
Hyperloop One and DP World will work together to study the viability of using hyperloop technology to unload ocean-container cargo at the Jebel Ali port in Dubai. Containers would travel swiftly via hyperloop to an inland depot, while minimizing the impact on local surface traffic. Hyperloop, a concept popularized in recent years by billionaire entrepreneur Elon Musk, is a technology for transporting people or cargo in suspended capsules through miles-long near-vacuum tubes at speeds reaching more than 700 miles per hour.
The DP World feasibility study will explore design, cost and financing options, and it will include studying the possibility of an offshore, floating hyperloop. That concept would enable containers to be taken from a ship, placed into the tube, then transported directly to an inland hub rather than requiring handling and taking up space on the docks—vastly reducing local congestion and emissions, while freeing up port real estate.
DP World operates 77 cargo terminals in more than 40 countries.
To read more, click here.
Editor's Insight: This futuristic technology might be coming faster to U.S. shores than many think. In addition to the fact that Hyperloop One is U.S.-based, the company has partnered with GRID Logistics Inc., which specializes in transporting cargo from ports to inland warehouses, and AECOM, an engineering firm, to study deploying the technology at the Ports of Los Angeles and Long Beach, according to The Wall Street Journal.
Hyperloop technology could bring major efficiencies to port logistics, reducing congestion, energy and emissions. Given these benefits, there is a good chance government agencies will support the technology. 8-17-16 By Elliot Maras
Companies in this article