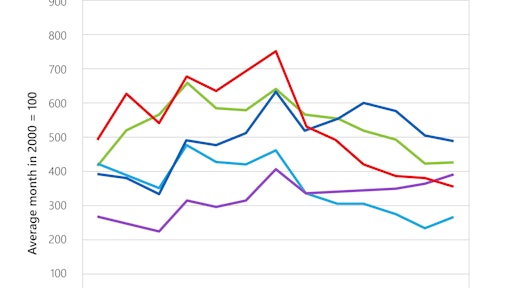 DAT Freight Index numbers indicate that truckload freight volumes slipped 27 percent in December 2018 compared to the same period last year. Load availability on the spot market has trended downward since August as capacity loosened and trucks were more available.
Despite the downturn, volume increased 7 percent overall for the year compared to 2017.
Flatbed rates remained stable month over month, but dry van and refrigerated ("reefer") rates fell slightly due to declining fuel surcharges. Compared to 2017, flatbed rates rose, but vans and reefers lost momentum.
According to DAT Market Analyst Peggy Dorf, a surge in e-commerce freight did not bolster spot market numbers this year as expected because retailers and contract carriers appeared better prepared to handle the rush.
"Contract carriers handled a bigger share of the seasonal loads, taking advantage of new equipment and improved driver retention," Dorf says.