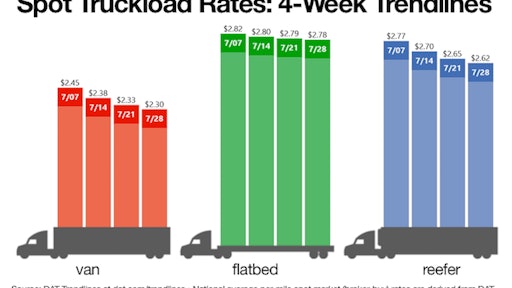 Spot truckload rates declined again during the week ending July 28 as the overall number of loads posted on DAT load boards fell 4.2 percent while capacity increased 0.5 percent.
National average rates declined for all three equipment types: the van rate fell 3 cents to $2.30/mile, the refrigerated rate dropped 3 cents to $2.62/mile, and the flatbed fell 1 cent to $2.78/mile.
These rates are just pennies lower than June's record highs, however, and the volume of available freight is actually running slightly ahead of June weekly averages. The spot freight market continues to be strong compared to historical averages.
Load-to-truck ratios declined slightly for vans and flatbeds last week, while the reefer ratio was stable compared to the previous week.
VAN OVERVIEW: In the van market, the number of available trucks increased 1 percent compared to the previous week while load posts declined 3 percent. These conditions pushed the national van load-to-truck ratio down slightly to 6.9.
Prices softened in several van markets:
Los Angeles: $2.80/mile, down 6 cents
Memphis: $2.77/mile, down 13 cents
Atlanta: $2.47, down 11 cents
Houston: $2.19/mile, down 6 cents
REEFER OVERVIEW: The number of reefer load posts on DAT load boards held steady while truck posts dropped 1 percent. The reefer ratio rose to 8.4 loads per truck, which is 36 percent lower that the June average of 13.1. Capacity is beginning to loosen up.
The national average rate for reefers is 4 cents below the June average but still high compared to previous years. Simply put, rates are falling from an all-time high in June.
FLATBED OVERVIEW: The national load-to-truck ratio for flatbeds fell for the seventh straight week at sat at 39.5. Load posts were down 9 percent while truck posts were unchanged.
One market to watch: Texas, where steel tariffs and challenges securing specialty pipe which is manufactured almost entirely of overseas steel may be having an effect on flatbed load availability. Overall, flatbed pricing remains volatile with large weekly swings in both directions.