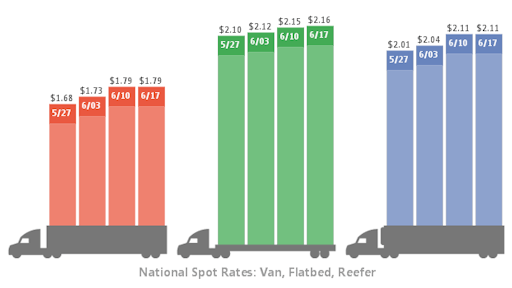 The number of loads posted on the DAT network of load boards dipped 1 percent, and truck posts gained 8 percent, as capacity returned to the spot market during the week ending June 17, according to DAT Solutions, which operates the industry's largest electronic marketplace for spot truckload freight.
Load-to-truck ratios retreated week over week but remain high:
Van ratio: 5.2 loads per truck, down 9 percent.
Reefer ratio: 9.1, down 10 percent.
Flatbed ratio: 44.5, down 10 percent.
On-highway diesel prices continued to slide and fell another 3 cents to a national average of $2.49/gallon. Spot market rates include a fuel surcharge.
Van Trends
After adding 11 cents from May 27 to June 10, the national average van rate held steady at $1.79/mile. The number of posted van loads declined 1 percent, while truck posts increased 9 percent.
Two van markets to watch:
Los Angeles: Van freight volumes from Los Angeles have climbed more than 10 percent over the last month, and the average rate there added 2 cents per mile to $2.30/mile last week.
Houston: Average outbound rates from Houston rebounded last week, up 6 cents to an average of $1.87/mile. Houston-New Orleans rose 22 cents to an average of $2.65/mile, while Houston-Oklahoma City hit a new high at $2.30/mile.
Reefer Trends
The national average reefer rate was unchanged at $2.11/mile, the highest average in nearly two years. Reefer load posts dipped 2 percent, while truck posts jumped 8 percent. Two reefer markets to watch:
Denver: At $1.30/mile, Denver had the lowest average outbound reefer rate in the country last week. But inbound rates on several key lanes were higher: Los Angeles-Denver rose 37 cents to $3.23/mile, Dallas-Denver was up 24 cents to $2.67/mile, and Chicago-Denver paid 19 cents better at $2.20/mile.
Florida: The lane from Lakeland-Charlotte bounced back 13 cents to $2.00/mile last week, but many more Florida lanes are down, as droughts and wildfires have hampered the state's prime shipping season this year. Prices on lanes out of Miami continue to fall.
Flatbed Trends
The flatbed load-to-truck ratio declined 10 percent to 44.5 after hitting its highest level in years the previous week. Flatbed load posts held steady while truck posts increased 11 percent. At $2.15/mile, the national average flatbed rate was unchanged compared to the previous week.

Rates are derived from DAT RateView, which provides real-time reports on prevailing spot market and contract rates, as well as historical rate and capacity trends. All reported rates include fuel surcharges. For the latest spot market load availability and rate information, visit dat.com/trendlines, and join the conversation on Twitter with @LoadBoards.