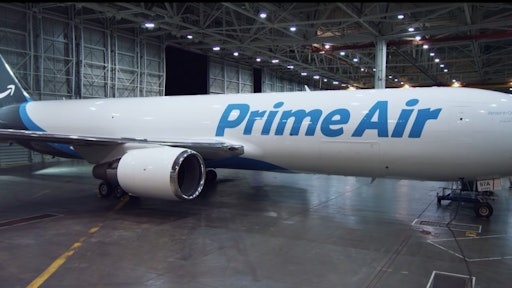 Amazon.com has rolled out its first branded jet, part of a cargo fleet put together to ensure speedy package delivery for its all-important Prime members, according to MarketWatch.
The e-commerce giant introduced the plane — Amazon One — in a blog posting Thursday. The Boeing 767-300, with "Prime Air" emblazoned on its side in bright blue letters, is part of the company's plan to support one- and two-day U.S. package delivery.
Amazon expects to introduce 40 planes just like this one over the next two years, said Dave Clark, senior vice president of worldwide operations, in the blog post. The company will show off the logo-decorated aircraft at the Seafair Air Show on Friday, and it tweeted out a video showing a time-lapse video of the plane being painted.
The planes will help fulfill Amazon's desire to reduce its reliance on carriers like United Parcel Service Inc. and FedEx Corp. The online retailer has also built up a network of ground couriers and branched out with drone deliveries.
Amazon One is one of 40 jets that Amazon agreed to lease through air cargo partners Atlas Air Worldwide Holdings Inc. and Air Transport Services Group Inc. earlier this year.
At the moment, the company has 11 planes in the air. This first branded jet gives a special nod to Prime members by featuring a prime number as its tail number.
The company owes much to its $99-per-year Prime unlimited shopping club, which helped it deliver blowout second-quarter earnings and revenue beats in July. Revenue rose 31 percent, pushing Amazon to a new all-time high profit.
Amazon's second-annual Prime Day (July 12), not even included in that second quarter, resulted in a more than 60 percent boost in worldwide orders from last year's event, according to the e-retailer. Research group Benchmark Co. estimated that 6 million new Prime members were added on the annual one-day sale event, which offers discounts stretching across several categories.
Prime Day's success prompted Benchmark and other analysts to lift their stock price targets and third-quarter estimates on Amazon, which is now the fourth-most valuable U.S. company.
To read more, click here.