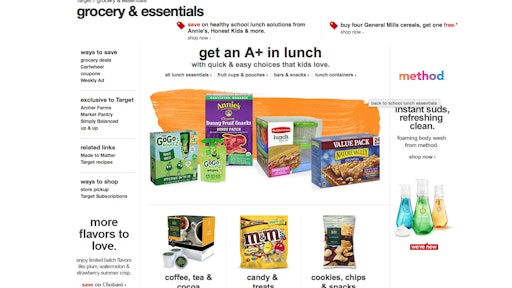 Target Corp. plans to begin testing a grocery-delivery service soon as retail rivals stake out space in bringing food to customers' doorsteps, according to the Minneapolis/St. Paul Business Journal.
The Minneapolis, Minn.-based retailer isn't offering many details about the effort, though the Star Tribune quotes Chief Marketing Officer Jeff Jones as saying a trial of the service will be offered "In the very near future."
Jones made his comments during Target's annual vendors summit, during which CEO Brian Cornell talked about the need for support from suppliers to help Target's reinvention efforts.
It's not certain where Target would test a delivery service. Several Twin Cities grocery stores already offer online ordering and delivery, including Kowalski's, Lunds & Byerlys, and CobornDelivers, a St. Cloud grocer..
Target last year began testing a curbside pickup service with a San Francisco startup.
To read more click here.
Editors Insight: E-commerce is changing the food and beverage supply chain because it is changing the way consumers and businesses buy food. The majority of food retailers are investigating e-commerce if they haven't introduced it already. There are many unanswered questions about how brick-and-mortar retailers will manage e-commerce, which makes this both an exciting and challenging time to be in the food and beverage supply chain.
Venture capital firms have poured millions of dollars into food delivery services that fulfill ecommerce orders. These venture capital firms have done their market research and they know the food industry is changing.
The "pure play" e-commerce merchants such as Amazon and Peapod shook up the brick-and-mortar food retailers in recent years. These "pure play" web merchants continue to grow. But the brick-and-mortar food retailers are responding. They are looking to leverage their existing infrastructure to serve the ecommerce customer along with the in-store shopper.
Target Corp., like other brick-and-mortar retailers, will test both customer delivery and customer pickup options for meeting e-commerce orders. Most observers believe that retailers will utilize both options.
There are various e-commerce business models being tested. Food Logistics will examine the different business models and their impact on the supply chain in its September issue.
One change that e-commerce is bringing to the food and beverage supply chain is that it forcing all players to support an omni-channel business model. 8-14-15 By Elliot Maras