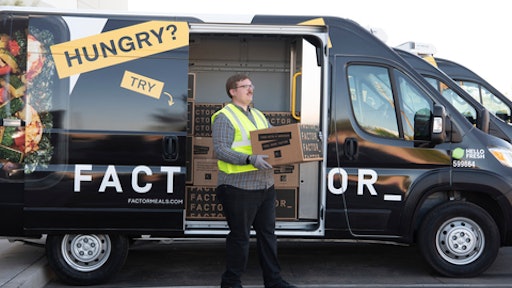 HelloFresh
HelloFresh launched its own delivery fleet network, now available in 19 major metropolitan areas.
"HelloFresh is always innovating to provide a best-in-class experience for our customers," says Nunzio Di Savino, VP of U.S. logistics for HelloFresh. "Our delivery fleet is one new way that we're ensuring customers' orders arrive fresh and on time. Our main priority will always be to offer our customers the most seamless end-to-end experience."
Key takeaways:
Operating its own fleet of nearly 500 vans allows

HelloFresh

to reduce transit times and leads to a better end-to-end customer experience. Leveraging newly established software provides

HelloFresh

with greater visibility around the customer experience. This includes having real-time communication between

HelloFresh

customers and drivers.
This hybrid approach ensures customers receive their meal kits and ready-to-eat meals from the

HelloFresh

portfolio, including Factor, Green Chef, and EveryPlate, with the best possible delivery solution.
This last-mile solution further reduces

HelloFresh's

carbon footprint and allows the company to reduce packaging such as insulation and ice packs (6-10% packaging weight reduction on each box) and food waste thanks to shorter transit times. A portion of the fleet includes electric vehicles, with the plan to electrify the last-mile network over the next few years.
"Fresh prepared food is one of the fastest growing grocery segments, and Factor leads the market with healthy, convenient, high-quality ready-to-eat meals. We're proud to be able to bring more awareness to this offering through great branding opportunities like our delivery fleet," adds Di Savino.