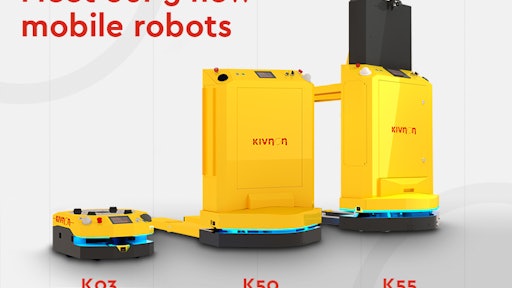 Kivnon
Kivnon grows its mobile portfolio with a new range of automated forklifts: the K03 Twister, the K50 Pallet Truck and the K55 Pallet Stacker. The new range is capable of circulating around the environment by using magnetic guidance or mapping navigation.
The new models reflect the company's new design line, marking the beginning of the new look of the future mobile robots.
Per Kivnon:
The new K03 Twister is a rotational mobile platform with dimensions of 700 x 500 x 280 mm, making it the smallest AGV of Kivnon mobile robot portfolio.

The new Forklift mobile robots autonomously transport palletized loads of up 1,000 kg and lift heights of up to 1 meter.
The new K50 Pallet Truck and the new K55 Pallet Stacker have the ability to move in both directions of travel and are equipped with lifting forks to transport and handle loads vertically and horizontally.