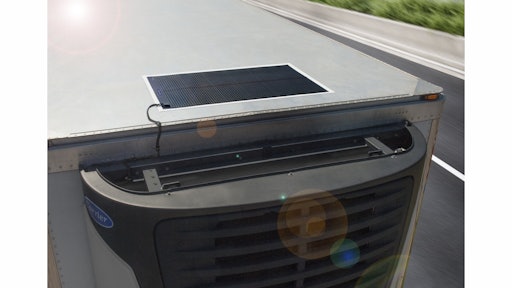 A new accessory from Carrier Transicold harnesses the power of the sun to charge transport refrigeration unit (TRU) batteries to maintain peak performance in an environmentally sustainable way. Carrier Transicold helps improve global transport and shipping of temperature-controlled cargoes with a complete line of equipment for refrigerated trucks, trailers and containers, and is a part of UTC Building & Industrial Systems, a unit of United Technologies Corp.
Developed specifically to maintain TRU battery charge, the thin-film flexible solar panels are easily installed on the roofs of trailers, truck bodies and refrigerated rail cars chilled by Carrier Transicold or other systems. When exposed to daylight, the panels continuously charge TRU batteries, ensuring ample power for system starts and helping to avoid issues and costs associated with a weak or dead battery.
"The engineering specifications for many features of the Thin-Film Flexible Solar Panel systems were developed by Carrier Transicold experts who understand the unique power demands of TRUs and associated electrical architecture," said Jason Forman, marketing manager – truck trailer, Carrier Transicold Performance Parts Group. "Refrigerated fleet demands for value-added electrical loads have increased in recent years, tapping refrigeration system batteries to power additional electronics such as telematics devices, fuel-level sensors, interior trailer lighting and other accessories."
Such power draws can range from milliamps to a few amps per hour, depending on the number of devices tied to the battery. If the TRU has not been operated for some time and these accessories continue to draw power while the unit is off, its battery might not have enough charge to start the engine, resulting in a service callout or battery replacement.
"Solar panels can offset the draw from accessory electrical devices while the TRU is off, significantly reducing callout charges related to the battery," Forman said.
Solar panels can also help conserve fuel by minimizing the need to run the TRU engine to charge the battery. Carrier Transicold solar panels provide up to 1.8 amps per hour and are compatible with 12-volt wet cell and absorbent glass mat batteries. Amorphous silicon solar cell technology performs reliably even in low and indirect lighting conditions. Weighing less than 2 pounds, the panels are highly flexible and measure less than one-eighth of an inch thick. Designed to withstand the harsh transportation environment, they are waterproof and puncture-resistant and have a five-year limited warranty on power output.
Carrier Transicold's North America dealers offer two configurations of Thin-Film Flexible Solar Panels. The standard panel measures approximately 26 by 41 inches and is intended for trailer and rail installations where there is a wide, flat roof. The rail-optimized panel is suited for narrow corrugated roofs, measuring approximately 14 by 80 inches.
To learn more about the new Thin-Film Flexible Solar Panels, turn to the experts within the Carrier Transicold dealer network or visit www.carrier.com/tru-solar.
Companies in this article