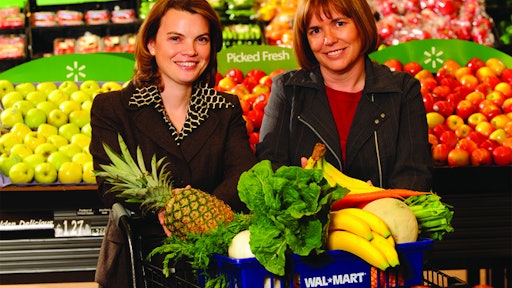 Last November, Walmart Canada opened up a sustainable perishable food distribution center in Balzac, Canada. The retailing giant spent $115 million to build the 400,000-square-foot DC—a state-of-the-art facility that is an estimated 60 percent more energy-efficient than Walmart's traditional refrigerated warehouses.
Located about 15 miles north of Calgary, Alberta, the facility is one of Canada's largest refrigerated buildings and serves as a hub for fresh and frozen food destined for 104 of the company's stores in western Canada, from Manitoba to British Columbia.
The facility's environmental features will help Walmart Canada to save approximately $4.8 million in energy costs over five years. One of North America's most energy-efficient distribution centers, the building is a living lab of sustainability and includes the company's first full pilots of hydrogen fuel cells, solar thermal and wind power, as well as many other sustainability features and products.
"The facility is helping us meet our ambitious sustainability goals—to generate zero waste, to be powered 100 percent by renewable energy and to sell products that sustain people and the environment," says Virginia Garbutt, Walmart Canada's director of strategic network planning and continuous improvement. "In addition, because we're saving on operating costs, the facility helps Walmart achieve its mission to save people money so they can live better."
The facility was built and is operated with rigid environmental standards. Many of the features and processes that were incorporated into it will drive down supply chain costs, which supports both revenue growth potential—and Walmart's belief that environmental and business sustainability can be complementary.
For taking this leadership role in environmental stewardship, and building an innovative first-of-its-kind facility that will serve as an industry-changing model, Walmart Canada has been named the winner of Food Logistics Golden Pallet Award in the large distribution center category.
The Golden Pallet Awards, sponsored by Food Logistics, are the first food industry awards to recognize excellence in warehousing.
The Balzac facility is just one example of Walmart's many environmental endeavors. The retailer has opened store prototypes in every market that are up to 30 percent more energy efficient. In the past five years, it has cut emissions at existing stores, clubs and distribution centers by 20 percent.
The Balzac facility is the first Walmart DC designed to be environmentally-friendly from the ground up. Key to its success was the collective mindset around sustainability that Walmart Canada shared with its third-party logistics provider, Supply Chain Management (SCM), an Exel company based in Mississauga, Ontario, when they began conceptualizing the project.
Risks Worth Taking
The distribution center, which is owned by Walmart and operated by SCM, was built to support the expansion of Walmart's Supercentre format. It adds a complete line of groceries, including vegetables and other perishable items, to its traditional general merchandise offerings. It employs 200 full-time and 30 part-time workers and is built to process as many as 130,000 cases per day.
"We were challenged to make this the most sustainable distribution center in the world," says Garbutt, who lead the team that designed and built the facility. "And we wanted this to be evident through all phases of design and construction—as well as ongoing operations."
The first step, says Garbutt, was to determine exactly what "sustainability" really meant. "We were a little unclear—we realized that this is not about recycling, even though that's very important. But we had to change the way we look at things and stretch beyond what we would typically do and once we started, it really took on momentum very quickly."
Keeping in line with Walmart's goal to achieve zero waste, 90 percent of the waste was diverted in the construction of the building—compared to an industry average of about 10 percent.
One of the challenges Walmart faced was the piloting of new technologies. "This comes with inherent risk, but we couldn't meet our sustainability objectives using the technologies of yesterday," says Garbutt. "At the same time, we had to make sure these investments would work because our number one goal is to service our customers—and the distribution center had to be able to do that. We spent three months researching new technologies and working with our vendors to determine how the solutions to work, as well as the costing and savings we would generate."
One of the biggest investments was in hydrogen fuel cells, which the company sees as an alternative to lead acid batteries as a power source for material handling equipment—especially at high-throughput distribution centers such as the Balzac facility. For the first time, Walmart is equipping an entire lift truck fleet with hydrogen fuel cells.
The hydrogen comes from Quebec, where it's produced using 98 percent renewable energy sources. It's then trucked to Alberta about every two weeks—and the savings outweigh the transportation costs. "In the construction phase, we were able to eliminate the costs associated with wiring and we didn't need a battery area," says Garbutt. "And there are ongoing operational savings as well, such as no time lost for battery changing."
Hydrogen fuel cells power the facility's entire fleet of 71 lift trucks. The use of fuel cells as a power source will reduce C02 emissions from the vehicle fleet by 55 percent or an estimated 530 tons annually, the equivalent of taking 101 passenger vehicles off the road per year. Their use will also improve productivity and result in a cost-avoidance of an estimated $1.3 million over five years.
By using fuel cell technology at such a large scale at the Balzac facility, Walmart will be able to evaluate the efficiency of the technology and access where it can used elsewhere in its distribution network. "There's a risk in our ROI, because the technology is new and you don't know what you don't know," says Garbutt. "But we absolutely believe in fuel cell technology from both an operations standpoint and a sustainability standpoint. We're counting on the industry to adopt this technology with us. We believe this investment will speed wider adoption of the technology, which will ultimately drive down costs for our consumers, our competitors and ourselves."
Energy efficiency extends in the day-to-day operations as well. The DC is using a novel pick-by-line approach, where product is pre-allocated to its destination store upon arrival at the DC. Product is unloaded, inspected, added to inventory and then organized in a staging area rather than in racking. It is then pick up the same day and loaded back onto trucks for store delivery.
This approach delivers perishable products to retailers and consumers one day faster than a traditional inventory management process and avoids the infrastructure costs of racking systems. "Pick-by-line allows us to deliver the freshest food possible to our customers," says Garbutt. "The process, which requires full synchronization with our vendors and distribution centers, makes it possible to move fresh food out of the distribution center within 24 hours of arrival, thereby providing the freshest possible perishable goods to our customers."
In the refrigerated and freezer areas, conveyor belts move completed pallets out of the temperature zones through small, automatic openings and to the wrap machines in preparation for outbound moves. The system conserves energy by requiring a smaller opening and saves time by removing the need for an associate to transport pallets to wrap machine.
Green Teamwork
In order to meet sustainability objectives, the Walmart/SCM team realized that it needed to establish a constant day-to-day culture. To achieve this, new team members participate in sustainability orientations and a "sustainability showcase" is included in common area displays and in educational material throughout the site.
"With our sustainability orientation, we engage our new hires from the very first day they come in," says Marnie Banting, national procurement manager, SCM. "They're made aware of why sustainability is important for the organization, the community and for themselves as team members. We train our team members on how to achieve sustainability goals and provide them with the tools they need to achieve them, and we hold them accountable for attaining their goals."
Banting says a formal sustainability committee, comprised of management and team members, encourages ideas from employees and then determines if and how they will be implemented. Team members are rewarded for ideas and actions that support facility goals with preferred parking spaces, recognition among peers and other prizes.
"We have 'go green' teams that meet on a regular basis and we build events around sustainability," says Banting. "It's really a source of pride for everyone."
Walmart Canada continues to work steadfastly with its suppliers to increase its logistics efficiency and to incorporate sustainable practices and initiatives into the processes, operations and mindset of its third-party suppliers. The company has instituted no idling policies in all its stores and distribution centers; improved fill rates on trucks and increased use of long-combination vehicles.
"In Canada, we don't own our trucks, but work with 3PLs," says Garbutt. "Together with our suppliers, we are working to reduce the amount of fuel used to transport goods. By doing things like reducing the number of 'empty miles' our trucks drive and optimizing how merchandise is stacked in our trailers, we bring our products to the store as efficiently as possible."
Where it makes sense, the company has established flow centers in certain provinces to ensure efficiencies when delivering products to local stores.
Several times a year, the company gathers its logistics suppliers to share best practices and recognizes carriers annually for sustainable operations, processes and corporate commitment.
"Balzac demonstrates that there's no need to wait for sustainability," says Garbutt. "The technology solutions are here and ready to put into practice. We believe this facility showcases the immediate returns of investing in green innovations and the positive impact of a sustainability mindset.
"We've learned many things from this experience that we intend to incorporate into other distribution centers. We're already in the process of retrofitting our distribution centers with an aim to make them 20 percent more efficient," she adds. "And we're committed to share the results of our innovation, including with our competitors. We aren't trying to compete on sustainability—the environment is too big a problem for any one company to solve on its own. At Walmart we believe the more we share, the better for everyone."
Companies in this article