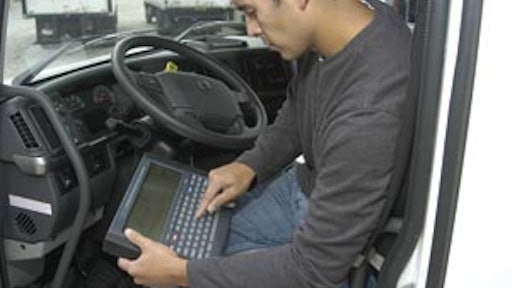 When implementing new technologies in fleet operations, running and startup costs have been the biggest obstacles. Those who previously ruled out global positioning satellite (GPS) systems for those very reasons should check again.
With a new pricing model that has gained popularity within the last year or two, costs for satellite tracking are now far more within the reach of everyone. A growing number of on-demand solutions make GPS more affordable—between $15 and $50 per truck per month in most cases, depending on how often customers want reports and what they want those reports to contain.
Under most of these new on-demand models, not only is vehicle location data gathered, but the information can be tied into Web-hosted fleet and transportation management packages that also perform route planning, load building, carrier selection, scheduling, address verification, mileage computing, fuel tax recording, engine and driver performance monitoring, benchmarking and more. These software packages can update the other functions as vehicle location and status data changes.
"It's one thing to know where your people and assets are, but the real question is what you do with that information," says Chris Jones, executive vice president of solutions and markets at Descartes Systems Group, Waterloo, Ontario, Canada, which offers GPS as a component of its On-Demand Fleet Management Service.
"GPS data by itself is nice to know, but you have to tie it into a plan, a route and other data. You should also be able to collect speed, engine data and driver performance as well as a breadcrumb trail to see where the driver was, what he was doing and did he stop when he was supposed to," adds Tom Lemke, executive vice president of Cadec Corp., Londonderry, NH, which merged with Atlantis Data Systems (ADS), Houston, in October to leverage that company's on-demand GPS and fleet management service.
In announcing the merger, Lemke says, "We've seen a real desire for subscription service, and one of the reasons for the merger was because ADS offers this service. You can pay as you need data. You pay a monthly fee only for what you use. You can pay by ping, by route, or set it up to ping a truck only at certain times of the day. There's a lot of flexibility with these systems."
Pay As You Play
The growth of on-demand services is also changing how GPS providers offer their service. In the past, companies that wanted to deploy GPS had no choice but to shell out thousands of dollars up front for software, transmitters and receivers before starting. Today, very little hardware is needed as most services feed off the wireless-to-Web devices—;such as mobile phones, laptops and PDAs—;that drivers already have with them in the cab.
"Companies today are simply less willing to make large upfront investments in technology without knowing if and when they'll achieve benefits," says Adrian Gonzalez, a principal at ARC Advisory Group, Dedham, MA. "Instead, they prefer solutions that implement quickly, require minimal IT involvement and can be paid as the value is realized. These are the primary selling points of on-demand solutions."
That was what led Stewart Foodservice, based in Barrie, Ontario, Canada, to employ Cube Route Visibility, from Toronto-based Cube Route, in early 2004. "Given the size of our organization, we could not justify the budget to implement tracking and dispatching solutions that require large upfront capital investments and infrastructure changes," says Dennis Hrytzak, director of finance.
"With Cube Route we achieved visibility into our delivery process without disruption to our service or any capital investment," he says.
The same can be said of Olympic Wholesale Co., a bakery/foodservice distributor in Pickering, Ontario, Canada, and another user of the Cube Route solution. "We're already dealing with razor-thin margins and the inability to generate more revenues through price increases. Our only option was to find a cost-effective solution that could be adapted to our operating environment and culture, and provide the base level of visibility we required," recalls Bob Haliburton, distribution manager.
"Ours is a pure pay-as-you-go system. You pay for it by the drop, and it averages to about 40 cents or 50 cents per drop. It doesn't matter how many reports you do, and you can pick and choose how many routes you want to run," explains Alex Walker, Cube Route's CEO.
GeoLogic Solutions, Herndon, VA, has a similar payment plan with its on-demand GPS offering. Costs for the service range from $35 to $50 per truck each month. "Our service is exceptions-based so that you only get the information you need to react to immediately. If you need more data, you pay more, but the bottom line is that you're getting better information for less money," says John Lewis, president of GeoLogic.
For $68 a month, including all the necessary hardware and airtime costs, shippers can use Linktrak from TransCore, Beaverton, OR. That system uses GPS, satellite communications and a Web-based interface that allows customers to locate trucks and communicate with drivers anywhere that they can access the Internet.
Monthly subscription fees for the ADS service can range from $15 to $40, "depending on what you use and need," says Cadec's Lemke. "It really depends on the culture of the company—;how much data you want, what you want to do and how involved your IT department wants to be."
Upfront Costs Come Down
Some GPS service providers still charge up-front fees, but costs for the necessary software, hardware, licensing and access fees have come way down. Users of systems by Qualcomm Wireless Business Solutions, San Diego, can expect to pay anywhere from about $100 to $1,000 or more up front, according to Norman Ellis, vice president and general manager of Qualcomm Wireless Business Solutions' Transportation and Logistics Group. Monthly fees for Qualcomm's most basic service package are only $17.95 a month, while users of the company's top-of-the-line plan might pay $65 a month. As with other on-demand GPS solutions, the benefit is that "you know what it will cost exactly per month, and that consistency is very important to many of our customers," Ellis says.
XATA, based in Minneapolis, also charges up-front fees with the on-demand offerings that it rolled out last year. Costs for XATANet hardware and software range from $1,000 to $2,000, according to Tom Flies, XATA's vice president of business development. Those fees are in addition to monthly fees associated with one of four service levels it now offers: XATANET Bronze, with basic asset tracking and engine reports; Silver, with an onboard display, two-way text messaging, state fuel tax reporting, engine diagnostics and black box capabilities; Gold, with DOT logs and trip/driver management; and Platinum, with integration into routing and dispatch programs. Monthly fees per truck range from $15 for bronze to $54 for platinum.
But even with a service like this, "there's not as high an upfront cost, a lower cost of entry and predictable costs for a fleet every month," Flies says.
Hot Stuff Foods, a branded foodservice concepts franchisor based in Sioux Falls, SD, is currently using XATANet Gold on its 36 trucks, and will be upgrading to Platinum soon. "We put in XATANet about a year and a half ago and the thing we like about it is that XATA lets us tailor the system to what we're looking for," says David Bader, vehicle transportation coordinator at Hot Stuff. "As we've been getting more and more into the system, we're expecting more out of it."
The desire for on-demand services has even brought companies that typically had not been involved in the GPS market into it. Trailer refrigeration unit manufacturer Carrier Transicold, for example, offers a DataTrack option that links GPS trailer and rail container tracking with other telematics programs. DataTrack can send out alarms for reefer malfunctions, temperature changes, unauthorized door openings and unauthorized movements.
Like many other on-demand tracking services, DataTrack uses exceptions-based reporting. "The system is set up so that the customer gets one or two status reports a day unless there is a problem," says Mark Fragnito, manager of electronics at Carrier Transicold, headquartered in Farmington, CT. "You can also ping the trailer, if you so desire, at any time."
Rival ThermoKing, based in Minneapolis, also provides a GPS trailer tracking module as part of its offerings. Called Trac-King, it allows dispatchers to scan a fleet for location, operating status, equipment use, route history, refrigeration unit operations, load temperatures and door openings. It comes with street mapping and automatic alarm and event notification.
Faster ROI
For many, these on-demand GPS systems bring a quicker return on investment than previous offerings. Many companies see an ROI in less than a year.
Since installing GeoLogic's GPS solution on all 225 trucks in its fleet, Denver-based Western Distributing Transportation Corp., a local Coors beer and refrigerated food hauler, has cut two dispatch positions. "We're also using it for fuel tracking and driver miles, and we've increased fuel usage by six-tenths of a mile per gallon, saving us about $70,000 or $80,000 a month," says Dino Guadagni its vice president. "I also like that it's just looking at the trucks that we're having problems with," he notes.
Using Cube Route, Olympic Wholesale reports an average of 10 percent savings per route. "You can see the full movement and speed of a driver any time during the day," explains Haliburton. "Since using the service, we have driven efficiencies into the organization and reduced our delivery costs considerably."
Stewart Foodservice has seen a 10 percent increase in driver productivity, an 8 percent increase in fleet capacity, a 3 percent decrease in service time and an increase in on-time deliveries from 93 percent to 97 percent with its Cube Route solution.
"If done correctly, on-demand has a cost structure that is half what you would pay for other programs," says Cube Route's Walker. He notes that companies that use these types of services typically "can drive out about 10 percent to 15 percent of costs per delivery with better routing, lower drive time, better fuel usage and better driver performance."