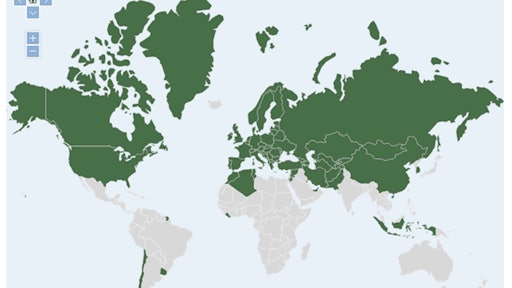 China has taken a key step towards the development of international economic corridors with its regional trading partners and the rest of the world with the ratification of the United Nations TIR Convention.
The Secretary-General of the United Nations, acting in his capacity as depositary, informed that the Government of the People's Republic of China deposited its instruments of accession to the TIR Convention, 1975, on July 5, 2016, bringing the number of Contracting Parties to the TIR Convention to 70 on the five continents. The Convention will enter into force for China on Jan. 5, 2017.
EU-China trade reached EUR 520 billion in 2015, and some 60 percent transited by sea, according to Eurostat estimates, while rail and road accounted for some 10 percent of China's exports to the EU, and 3.2 percent of the EU's exports to China.
"China's accession to the TIR Convention will open new efficient and faster transport opportunities and transport routes between China and Europe. It can become a real game changer for international trade and is a strong contribution to the Chinese vision for 'One Road One Belt.' We warmly welcome China to the TIR Convention and look forward to working closely with China and all TIR contracting partners to turn this decision into strong opportunities for trade, transport and economic growth," said UNECE Executive Secretary Christian Friis Bach.
"I'm delighted to welcome China into the TIR family of nations. This is an important step in harmonizing standards and boosting transport, trade and development across the Eurasian landmass. IRU has been a strong supporter of China's Belt and Road Initiative, and we will continue working closely with the Chinese government and business community as we turn our attention now to implementing the TIR system," said Umberto de Pretto, IRU Secretary General.
The TIR transit system is the only global intermodal customs transit system, constituting a major facilitation tool for both transport and trade. Over 35,000 road transport operators worldwide are already authorized to use the TIR system effecting around 1.5 million TIR border crossing procedures per year.